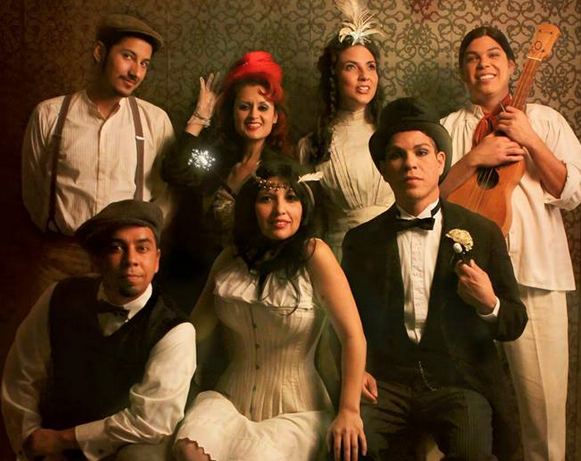 New video: Las Cafeteras 'Luna Lovers'
16 August, 2013
Los Angeles Son Jorocho darlings, Las Cafeteras, have a new music video that is a sweet departure from their usual energetic sound.
For those unfamiliar with the seven-piece band, Las Cafeteras put a contemporary and socially conscious spin on a regional folk music style from Veracruz, Mexico, called Son Jorocho. I became an instant fan when I saw they snuck into an over-capacity Que Bajo? party in New York City in 2012 to perform their border-defying anthem, La Bamba Rebelde. Never mind how the song makes one feel (fantastic! Rebelde!), it is an experience in itself to watch them perform. (They play an animal jawbone as an instrument, y'all.)
The new video by Las Cafeteras is for their "urban folk" hit, "Luna Lovers," which LA Weekly aptly describes as "something of a cross between a Dali short, a Michel Gondry film, and a childhood dream." It is simply beautiful—and different.
As singer (quijada player, and zapateado performer,) Leah Galleg os explains in this behind-the-scenes teaser, the track is "a soft, gentle, love song."
Adds singer (and jarana player) Daniel French, "It's a song about being on the road for hours in places I've never been and knowing that I was never alone—I always had myself, my ancestors, and the moon, always with me."
Directed by John Cantú, the video was inspired by silent film master Georges Méliès and the Eastside community of Los Angeles. The video reimagines Las Cafeteras as lovers—magicians, troubadours, a cyclist, and a boatman, who are led on a musical journey by the moon.
It should surprise no one that there was more in the cards for "Luna Lovers." This past April, the band performed at the SXSW music festival at Pachanga Por La Causa, a concert sponsored/hosted by Puente Arizona, a non-profit dedicated to protecting, assisting, and keeping immigrant families together.
When the folks at Puente Arizona caught wind of band members Annette Torres, Daniel French, and Hector Flores, incorporating sign language into a live performance of 'Luna Lovers,' they introduced the band to a young, deaf girl whose mother and grandparents were facing deportation after they were caught in an immigration raid.
The socially conscious band instantly recorded a special and emotional video for the girl and her family.
"It sheds a whole new light to the power of music," said vocalist and zapateador Hector Flores.
Las Cafeteras recently capped an extensive East Coast Tour, where they opened for local and international legends, such as Los Lobos, Ozomatli, Caifanes, and Juanes. Keep up with them on Facebook and Twitter.

Follow Sounds and Colours: Facebook / Twitter / Instagram / Mixcloud / Soundcloud / Bandcamp

Subscribe to the Sounds and Colours Newsletter for regular updates, news and competitions bringing the best of Latin American culture direct to your Inbox.
Share: