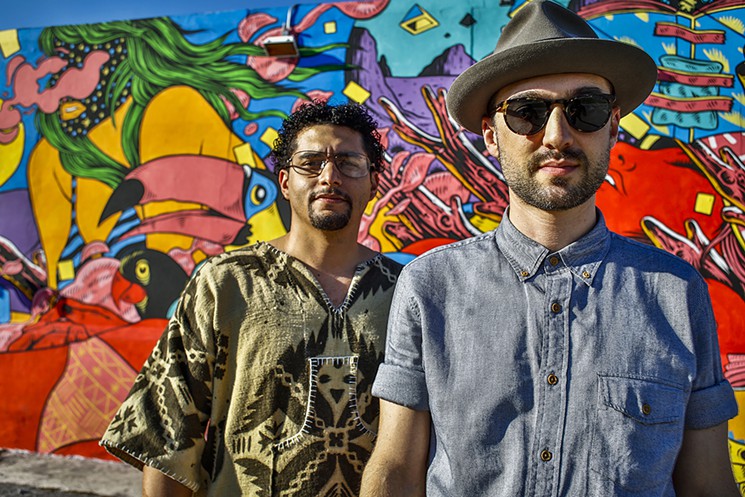 Ian Witlen/Red Bull Content Pool
NYC AfroLatino Festival celebrates the best of AfroLatinidad
11 July, 2015
New York City's third annual AfroLatino Festival kicked off on July 10 with a wonderful gala at the MIST studios and cultural space in Harlem featuring a variety of cultural performances, such as the Fat Afro Latin Jazz Cats and Los Hacheros.
But there is so much more, including panel discussions and documentary screenings. (Schedule here.) Tonight, the festival continues with a special edition of Uproot Andy and Geko Jones' party, Que Bajo?!, featuring a DJ Set by fellow Dutty Arts member, Riobamba, and a performance by Colombia's Los Gaiteros de San Jacinto. On Sunday, the festival includes morning dance workshops, a kizomba dance class, and more, including concerts by Panama's Kafu Banton, Cameroon/France/NYC's Les Nubians, and Puerto Rican reggae veterans, Cultura Profética.
We had a chat with the event organizers, Mai-Elka Prado Gil, about the chock full of AfroLatinidad festival:
Sounds and Colours: Why an AfroLatino festival?
Mai-Elka Prado Gil: New York City is a very diverse city. There are many events and festivals, but we noticed there wasn't one focused specifically on Afrolatinos. Actually, there aren't many festivals around focused mainly on Afrolatinos period. We decided to create that space, where Afrolatinos, or non-Afrolatinos interested in celebrating Afrolatinidad, can interact and feel at home. To us, it's much bigger than that even. We see this as an opportunity to bring Afrolatinos together, give them an opportunity to network, feel the pulse of our community, and show what we are about.
S&C: There are events scattered throughout the city and the outer-boroughs. Did you want to bring programming to an array of audiences?
PG: We wanted to make ourselves heard and felt throughout the entire city. There are Afrolatinos all over New York, and we wanted our programming to reflect that. We started in Long Island City at the Paper Factory Hotel with a series of free events for the community during the month of May. We are opening in Madiba in Harlem, we are to be in the Bronx, we are going to be all over Brooklyn. This Festival is truly a labor from the entire community and we wanted to make sure to bring it to all those communities. At a more abstract level, when you think about it, Afrolatinos are nomads, we are a very diverse community, with very diverse locations, histories, and experiences. This is our way of paying tribute to that.
S&C: You have a great lineup of performers. How did you go about picking them?
PG: This year we wanted to create a dialogue between what is happening in the U.S. and internationally, so we brought together amazing local performers and artists with more international names. All united by the fact that they shine light to Afrolatinidad. They have made their mark in one way or another in the Afrolatino community. They embody that. We have Cultura Profetica, Danay Suarez, Les Nubians, Kafu Banton, Que Bajo?!, Los Gaiteros de San Jacinto, Chop and Quench (The Fela Band), Los Hacheros. We have acts and artists from Cuba, Panama, Colombia, Puerto Rico, Cameroon, France, Brazil, NYC, Peru, over 20 acts from over 10 countries. This was very important to us–to have a diversity of countries that reflect the richness and diversity of our community.
Get more information about the AfroLatino Festival at their website.

Follow Sounds and Colours: Facebook / Twitter / Instagram / Mixcloud / Soundcloud / Bandcamp

Subscribe to the Sounds and Colours Newsletter for regular updates, news and competitions bringing the best of Latin American culture direct to your Inbox.
Share: