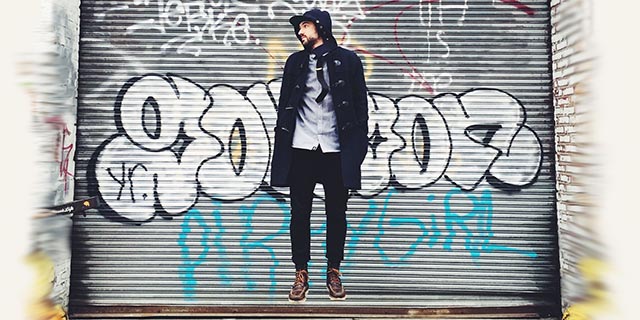 Uproot Andy Facebook
Remix to a Remix: Uproot Andy's 'The Takedown Response (El Dembow Prohibido)'
08 December, 2015
If you pay close attention to the beginning of the new Uproot Andy remix "The Takedown Response (El Dembow Prohibido)," you'll catch the phrase, "Pa' joderte!" That was very much intentional.
You see, his recent dembow-fication of Drake and Future's climbing-up-the-hip-hop-charts song "Jumpman" (now available on Que Bajo's site or our Nov. 27 story) was taken off Soundcloud just shy of a week after he posted it. The track had received more than 20,000 plays and 500 reposts/shares in just six days. Is that why it was pulled? Was the track too hot for Drake's record label to handle? And, aren't remixes a good thing for their artists, since it ultimately gives them more exposure? Well, not exactly.
Look, there's a reason Soundcloud is one of our favorite sites to hear and discovered remixes of the Latin American music we love. According to Business Wire, more than 12 hours of audio are uploaded to the site every minute to share with a global listener base of 175 million. So it should come as no surprise that Soundcloud has been on something of a takedown mode in the past year.
Using an automatic content identification system that YouTube also uses, Soundcloud is able to identify audio that rights-holders have requested to be taken off the site, hence the loss of Uproot's remix, and likely thousands of others.
We get it. The label and/or the artist wants to control how the music is disseminated. For instance, in early October, they released a new "remix" featuring Soulja Boy, which likely pleased hip-hop fans. But we're sure Uproot Andy's dembow mix reached a whole host of music fans that may (we said may!) not otherwise be into Drake and/or Future. It gave a track a completely different life.
No big deal, though. For those gifted in the art of the remix, like Uproot Andy, there's only one response: a new version of this track sampling only his own voice. Without further ado, listen to (and download!) Uproot Andy's "The Takedown Response (El Dembow Prohibido)" below.
And for those in the New York City who want to hear his musical stylings in person, you're in luck. This Saturday, 12th of December, Uproot Andy and his Que Bajo?! partner, Geko Jones, celebrate seven years of doing the damn thing at The Wick in Brooklyn.

Follow Sounds and Colours: Facebook / Twitter / Instagram / Mixcloud / Soundcloud / Bandcamp

Subscribe to the Sounds and Colours Newsletter for regular updates, news and competitions bringing the best of Latin American culture direct to your Inbox.
Share: