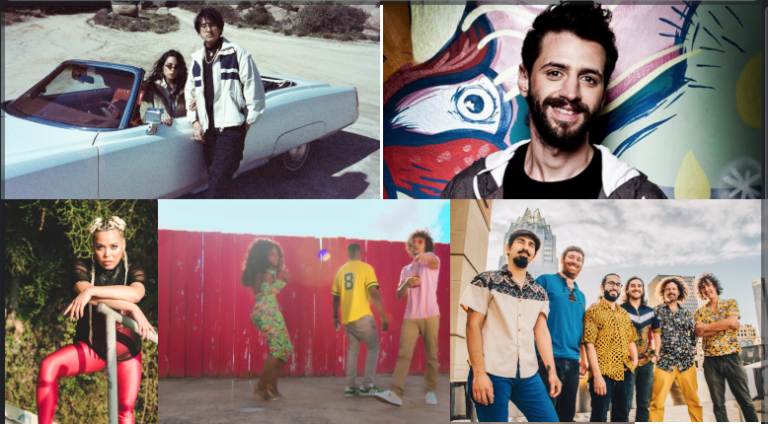 Spring tunes: Girl Ultra feat Cuco, Los Rakas feat Amara la Negra, Hermanito (feat Saso, Zuzuka Poderosa and Tittsworth), Superfonicos & Lagartijeando feat. Minuk!
10 May, 2019
Lots of new tunes to share from some artists we've long been fans of, as well as some newer talent.
Mexico City: Girl Ultra feat Cuco, 'Dame Love'
Meet Mexico City-born R&B queen Girl Ultra. Real name Mariana de Miguel, she told Pacific Standard magazine that when she embodies her musical self, she sees "a character that lives inside me—a super heroine that never existed in the real world."
"Girl Ultra is this extroverted, hidden part of my personality that comes out ritualistically before I perform. I have the urge to pull out my truest self, to shout, to step on stage and transform," she said.
Her music is somewhat reminiscent of Kali Uchis', but with an even more chill tempo. As such, her new music video for "Dame Love" features an artist very much in the same vain: Cuco. Just 20-year-old, Cuco (real name: Omar Banos) is best known for being his psychedelic and melancholic love songs. He produced and co-wrote the track.
Watch Alexis Gomez directed video for "Dame Love," the second single off her forthcoming full-length album Nuevos Aires, to be released this summer. And catch Girl on a tour this June:
6/14 – San Antonio, TX – Rock Box
6/15 – Houston, TX – Scout Bar
6/16 – Dallas, TX – Trees
6/21 – Brooklyn, NY – Knitting Factory
6/26 – Denver, CO – Bluebird
6/29 – San Francisco, CA – Slim's
6/30 – Los Angeles, CA – The Regent
Oakland/Panama: Los Rakas feat Amara la Negra, 'Devorame'
The sensuous new video by Los Rakas featuring Miami's Amara La Negra actually came out in early April. But we had to feature it as it's AfroLatino beauty at its finest at a time when the most popular reggeaton and Latin trap stars seem to be somewhat removed from the genres' earnest African roots.
Amara told BET, "I really wanted to do it because I admire them. I wanted to also collaborate with them specifically because they represent the Afro-Latino community coming from Panama."
We ran into Los Rakas at Billboard Latin Music Week and we're pleased to see them releasing music just in time for summer. They'll also be featured on the new album by producer duo Breakfast N Vegas, Trapical, which drops on the 31st of May. We got a sneak peek and it's a bop!
NYC/D.C.: Saso, Zuzuka Poderosa and Tittsworth, 'Devagar'
The Hermanito Label, run by DJs/producers Dave Nada and Jesse Tittsworth, have a new EP with big nods and influences from Baltimore, Afro-Latin sounds from Senegal and Brazil, and a healthy dose of empowered women taking on male dominated genres.
Explosâo is a no nonsense record with American grown Brazilian-Portuguese roots, said Nada.
"It's got b-more club, tropical bass and rowdy party music (it's how [Tittsworth and I] met actually! We're extra hyped on these updated nods and powerful women takes on often male dominated genres. This is where club and bass queen Zuzuka Poderosa and queer rapper TT The Artist (Baltimore) come in, flexing their signature styles over explosive beats by Titts and booty bass producers Banginclude (New York) and  Zee Reach (Strasbourg), the driving forces behind the beats and concept of the release," he said. "We've also got support from Bronx Dominican Saso (flipping the track from Portuguese to Spanish), and rapidly emerging French rapper/actress Liyah Dia. Additionally involved is an upbeat collaboration from the Afro-futuristic German-based artists Gato Preto and global bass masters Sak Noel and Salvi from Barcelona. Last but not least, Banginclude introduced us to eclectic NY rapper BLK ZEN, who gave us an American take on the Brazilian 'putaria' sound."
Listen to "Devagar" featuring Zuzuka, Saso and Tittsworth below. And stream Explosâo on Spotify or other digital platforms.
Colombia: Superfonicos, 'Cumbéalo'
Two new songs by the Texas-based band, Superfónicos, produced by Jim Eno of the rock band Spoon, were recorded straight to analog tape with no overdubs.
"We had to think of these tunes more like old school Cumbia or how Jazz musicians would. Whatever hits the tape is the take, so we had to recruit additional musicians to play parts that we would normally lay down later in a modern multitrack recording," said band co-founder Nico Sanchez.
The recording was also assisted by audio students from the University of Ohio in a program and partnership with Jim Eno's Public Hi-Fi studio to learn the fundamentals of a professional recording studio.
"Cumbéalo" is a made up word that turns CUMBIA into a verb. Vocalist and Gaita extraordinaire Jaime Ospina said the song is "a metaphor for turning our eyes back to the primal and ancestral and to remember all the great things that we've lost in this process of becoming modern and civilized. We think that humankind is in a big crisis right now, because we disconnect ourselves from nature, our sense of oneness and our spiritual selves. Cumbéalo is an invitation to remember."
Superfónicos play the Mexican American Cultural Center in Austin on the 11th of May.
Argentina: Lagartijeando feat Minuk, 'La Frontera'
This June, Argentina's Lagartijeando gives us Jallalla, a full length being released on Wonderwheel Recordings. Written after Zundel returned to Bolivia for the sixth time in 2018, he describes Jallalla as an entire life in an album. The first single, "La Frontera," has a joyful charango riff and the sweet, wispy voice of Minuk!, the Colombian artist Alejandra Ortiz, known as half of the duo Lulacruza.

Follow Sounds and Colours: Facebook / Twitter / Instagram / Mixcloud / Soundcloud / Bandcamp

Subscribe to the Sounds and Colours Newsletter for regular updates, news and competitions bringing the best of Latin American culture direct to your Inbox.
Share: