Review
Nation Beat – Growing Stone
Growing Stone begins with the maracatu meets New Orleans energy of "Puxa O Boi", which with it's funky guitars comes across as a pacified Chico Science e Nacao Zumbi. It's followed by "Bicu De Lambu" which plays forró on the fiddle until it sounds like a riotous party in the Appalachian mountains. It's fair to say then that Nation Beat's latest album has a lot of ambition, but unlike many Latin fusion albums, it mainly pulls it off.
Listening to the album it becomes hard to discern the Brazilian elements from the North American, with zydeco, forró, maracatu, country, blues and funk styles constantly on the surface but with only small details to tell one from each other. This is surely testament to the musicianship of bandleader and percussionist Scott Kettner who spent years learning northeast Brazilian rhythms in Recife, and playing with an assortment of great musicians over there. This education was definitely worthwhile as he has managed to find a point between Brazilian and Americana music that feels natural with no hint of contrivance whatsoever.
The album's at it's best when it ventures deepest into rural Brazil, such as on "Forró For Salu", presumably a tribute to Mestre Salustiano, and also "Rafa's Pé", but also when the percussion is at it's most powerful. A good example is the instrumental "Crown Heights Boogie" which starts off with a tribal stomp before horns and guitar take over, and then finds room for a drum solo later on. Even better is "Hook And Sling", an old funk tune given extra muscle by maracatu drums.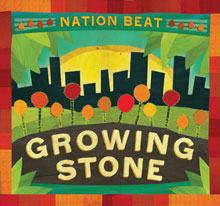 The primal nature of "Hook and Sling" is especially refreshing on the album as if you're not particularly enamoured with the melodicism of country and incessant rhythm of zydeco you might find this album a little grating at times. In particular, the hopped-up New Orleans jazz of "City Blues" and "Growing Stone" were too much for my particular tastes, and I would prefer if the group didn't get too far away from it's Brazilian-ness. As a whole though this is an album with more high points than low points, which for a concept that seems incongruous at first, is quite an achievement.
Growing Stone is being released by Barbes Records on September 13th. It's available to buy from Amazon and iTunes.
You can download "Puxa O Boi", the opening track on Growing Stone here.

Follow Sounds and Colours: Facebook / Twitter / Instagram / Mixcloud / Soundcloud / Bandcamp

Subscribe to the Sounds and Colours Newsletter for regular updates, news and competitions bringing the best of Latin American culture direct to your Inbox.
Share: