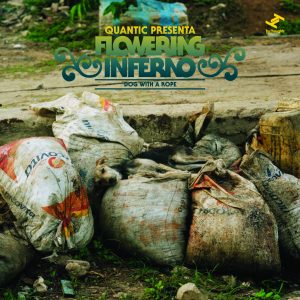 Review
Quantic Presenta Towering Inferno – Dog With A Rope
From the opening effect shot and rattle of drums there's no mistaking the dub roots underlying the new release by Quantic Presenta Flowering Inferno. When the horns kick in on the opener 'Dog With a Rope' it could easily be your classic roots reggae fare but there's something a little bit different about the track, about the arrangement and rhythm, there's a Latin flavour that can't be hidden. This becomes more evident on the second track 'Dub y Guaganco', a Cuban rumba and one of the highlights of the album. After the cumbia-infused 'Swing Easy' the blueprint for the album has really been laid out.

Will Holland, otherwise known as Quantic, has never sought to classify his music, but he has followed a certain model throughout his projects. First step is to lay down a solid rhythm section from which to work. In his early days this was using his fine beat-making skills but would later evolve with the live soul/jazz band he used for Quantic Soul Orchestra, and the Latin-influenced musicians who would make up Quantic and his Combo Barbaro. Only once the foundations have been laid does the experimentation begin, leaving the listener with a collection of songs tied together by their solid base but able to morph and flit through different styles and ideas. This methodology is continued by 'Dog With a Rope', his second release using the 'Flowering Inferno' moniker. The deep bass and cavernous drums that mark out dub are present on all of the tracks, and make this an album which would sound great on large sound systems. The instrumentation on top of this differs from track to track, with Cuba and Colombia seemingly the main influences. The horns are one of the main exceptions as they remain largely constant, although their use differs widely from the tropical jazz of Portada del Mar to the raw skankiness of Te Picó El Yaibí (Version).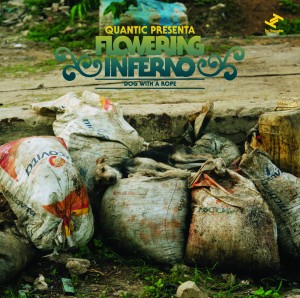 Alfredo Linares, a regular sideman of Holland, plays piano on the afore-mentioned Dub y Guaganco and Echate Pa'lla, a song that sounds like Carlos Santana on acid with it's cut-up rhythm and echo-laden vocals. It's a track that shows how Holland has also managed to incorporate other elements of dub into the mix, using effects on vocals and instruments, such as adding reverb and then cutting it off clean. It makes you crave to hear what this album would sound like on a big sound system, with the bass cranked up high. It's something that I am hoping to experience this summer, especially for the sensation of hearing the rumba and cumbia tracks with such a potent low-end, which in many ways seems to be what Holland has been trying to achieve with this release; the ability to build on sound system culture by mixing its dynamics with Latin styles, and it's something that I believe with this album he has unquestionably achieved.
Dog With a Rope is released by Tru Thoughts on July 13th. You can buy the album at Amazon and iTunes.

Follow Sounds and Colours: Facebook / Twitter / Instagram / Mixcloud / Soundcloud / Bandcamp

Subscribe to the Sounds and Colours Newsletter for regular updates, news and competitions bringing the best of Latin American culture direct to your Inbox.
Share: