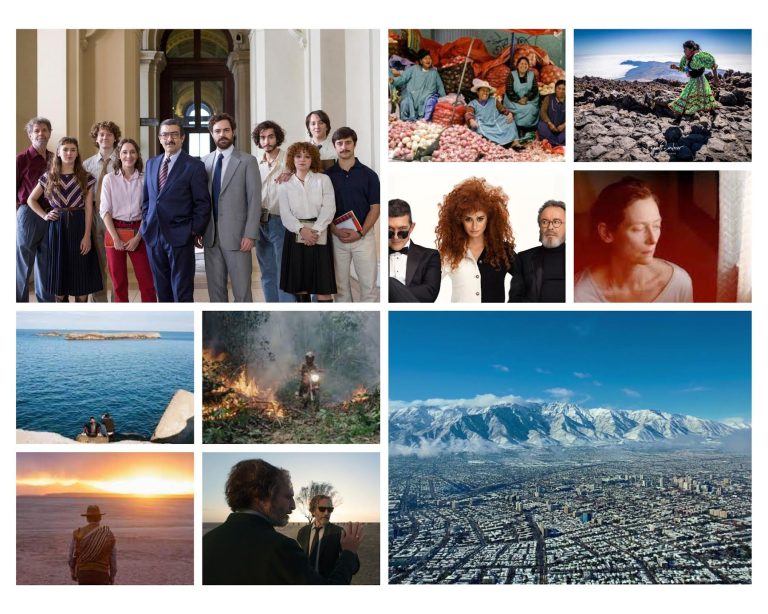 Best Films of 2022
30 December, 2022
Welcome to our list of Best Films of 2022! This is our second time putting together our list of favourite films from Latin America chosen by our amazing team of writers.
This year has been a particularly strong one for Latin American cinema, with filmmakers from countries including Argentina, Brazil, Bolivia, Chile, Colombia and Mexico offering up a range of original, thought-provoking and poignant films. Of the 10 films on our list, two have been shortlisted for the upcoming Oscars in the Best International Film category, with another one making the initial selection for Best Documentary. While streaming platforms still offer the best opportunity for seeing many Latin American titles, this year a whopping seven of the films have also been released theatrically in the UK, giving audiences the chance to experience these powerful stories on the big screen.
Without further ado, let's dive into our list of the 10 Best Latin American films of 2022.
10. The Territory
Alex Pritz, Brazil / Denmark / USA
Sundance winner depicts the indigenous resistance to land invasion in the Brazilian Amazon
Focused on the struggles of the remaining Uru-Eu-Wau-Wau people – a surviving Indigenous community in the Pacaás Novos National Park in the estate of Rondônia – this doc thriller is yet another dire warning to humanity. Pritz's refined piece of filmmaking is an explicit reflection on the existential ultimatum to both the Uru-Eu-Wau-Wau and the world. Invasions of the their lands have doubled in 2021, meaning that there are now more settlers than Indigenous people in their territory. This uncontrolled deforestation and the ravaging consequences on the climate are inestimable. On the 22nd of August 2022 satellite monitoring detected 3,358 fires in the Amazon region, the highest number for any 24-hour period in the past 15 years.
Fernanda Franco
The Territory won the Best Documentary Award at Sundance Film Festival 2022 and has been shortlisted for the Oscar for Best Documentary 2023.

9. Lorena Light-Footed Woman
Juan Carlos Rulfo, Mexico
The story of Rarámuri ultra-marathon runner Lorena Ramírez, who, wearing only sandals, regularly outpaces competitors
This short documentary executive produced by Gael Garcia Bernal, beautifully tells the story of Lorena Ramírez, a Mexican long-distance runner of Tarahumara origin (also called Rarámuri) who surprised her compatriots (and the world) by winning the Guachochi ultramarathon in 2017 by running in her handmade skirt and sandals. After her first feat, Lorena continued to win races – easily running 40, 50 or 60-mile events – and was even invited to participate in competitions in other countries.
She has never worn trainers, "what for?" she wonders, if those who do wear them always fall behind her and her fast feet. Lorena comes from a line of runners, so says her brother, who acts as Lorena's spokesperson in this documentary and who tells – among other things – that Lorena could not go to school, nor could her sisters, because the women in the family had to stay at home looking after the animals. Lorena runs and it seems that she has been running forever, it seems that running is the only thing she has ever done.
Maly Polotto
8. Memoria
Apitchatpong Weerasethakul, Colombia / Thailand / France / Germany / Mexico
Slow and sonic film in an all-consuming cinematic experience.
Experience is key to the film – a film that requires patience, almost a surrender to its pace and the atmospheres it creates. It opens with a loud bang: A woman from Scotland, Jessica – played masterfully by Tilda Swinton – jolts up from her sleep to this recurring bang, discovering it is a sound only she can hear. Restless and disoriented, she roams the city of Bogotá seeking an explanation for the sound, becoming immersed in the newfound aural richness around her. Designed for the cinema, Memoria follows Jessica's hypnotic wander from Bogotá to the Colombian mountains in a uniquely audio-centric style.
For his first film set outside of Thailand Weerasethakul chose Colombia, after he experienced something similar to Jessica. 'Exploding head syndrome' is a rare parasomnia described as a painless loud bang. When visiting Colombia for a film festival he woke up one night to a relentless sound, beginning what he describes as an 'aural hallucination' during his travels around the country. Colombia became not only an association with this jarring experience of sound, but a key element of his filmmaking.
Lia Gomez-Lang
7. Mariner of the Mountains
Karim Ainouz, Brazil / France / Germany / Algeria
A delicate and engaging film that follows Brazilian director Karim Ainouz as the traces his family's history
His mother, the Brazilian researcher and biochemist Iracema Lima Aïnouz raised Aïnouz without a father. After she died in 2015, Aïnouz dedicated his film The Invisible Life of Euridice Gusmāo(A Vida Invisível) to her; it went on to represent Brazil at the 2020 Oscars.
In Mariner of the Mountains, his mother is the filmmaker's invisible interlocutor. It is with her that he talks during his long journey in search of the distant land of his Algerian father.
In a certain sense, Mariner of the Mountains is the filmmaker's search for this hidden part of himself. Arriving by ship to Algeria, he discovers a more conservative reality than that he had imagined. On the other hand, he finds the land where he no longer needs to spell his name – the surname Aïnouz is very uncommon in Brazil – where faces are similar to his own, where he can speak French like he did when he was 18 and met his father for the first time in a Parisian cafe.
Monica Martinez
6. Official Competition
Gastón Duprat and Mariano Cohn, Spain / Argentina
Penélope Cruz and Antonio Banderas star in this searingly funny comedy skewering wealth, art and fame
After the acclaimed The Distinguished Citizen, Argentine directing duo Gastón Duprat and Mariano Cohn return with the comedy Official Competition featuring an impressive cast including Antonio Banderas, Oscar Martínez and Penélope Cruz.
Humberto Suarez is an octogenarian multimillionaire owner of a pharmaceutical company who, in the twilight of his life, is rethinking his contribution to society. For this reason, he decides to finance a film, choosing Lola Cuevas (Penélope Cruz) to direct. She picks two actors with very different characteristics for the leading roles. While Iván Torres (Oscar Martínez) is a prestigious master actor, Félix Rivero (Antonio Banderas) is a popular, wealthy and capricious one. Cuevas' idea is that the antagonism between their personalities can be useful for the rivalry she wants to capture in her film.
Maly Polotto
5. The Great Movement
Kiro Russo, Bolivia / Qatar / France / Switzerland / UK
A dizzying tour de force that dissects the personal cost of capitalist labour
Veering between bleak realism and eerie supernaturalism, The Great Movement follows the wanderings of Elder (Julio César Ticona) and his two friends, ex-miners from the Huanuni mines, who arrive in La Paz to demand jobs. But all the while, a mysterious illness is ravaging Elder's body, perhaps linked to the toxic dust he has ingested in the mines.
The film alludes to the multidimensional burdens of labour, invoking the worker's body as a site of exploitation under neoliberal capitalism. Director Kiro Russo explains that illness in the film is both literal – namely, the silicosis that slowly destroys the lungs of miners – and metaphorical. For the latter, Russo pinpoints capitalism as a kind of universal pathology which infects its local subjects in differing ways.
The backdrop to Elder's odyssey is the sprawling, high-altitude city of La Paz. Yet rather than offering a linear narrative, the film is "more about the cinematographic experience through the city and through these characters. I realised that La Paz, was the third character, one of the main characters." Paceño-born and Buenos Aires trained Russo explains.
Olivia Arigho Stiles
4. Bardo, False Chronicle of a Handful of Truths
Alejandro González Iñarritu, Mexico
Iñarritu's most personal film to date and his crowning achievement bringing together a lifetime of ideas
Alejandro Gonzalez Iñarritu's Bardo, False Chronicle of a Handful of Truths his most ambitious work to date. At nearly three hours long it is a sprawling, dreamlike, and highly personal melange of ideas marinated over 25 years.
Bardo follows Silverio Gama, a journalist and documentarian, as he returns to his native Mexico following the news he's to receive a prestigious journalism award in the United States, where he's lived for over twenty years, and which he now calls home. In Mexico he is confronted by the jealousies of the colleagues he left behind, the recriminations from his children at having been forced to move to the US and his own guilt about his success.
The film explores countless themes: immigration, creative exploitation, Mexico's relationship with its northern neighbour, the meaning of success, family, identity and belonging. It does so without any formal narrative structure. Instead it's held together by Silverio's quest to make sense of his own life and the central idea that once you leave the place you came from to go somewhere else you can never return.
Sofia Serbin de Skalon
Bardo, False Chronicle of a Handful of Truths has been shortlisted for Best International Feature at the 2023 Oscars.
3. Utama
Alejandro Loayza Grisi, Bolivia / Uruguay / France
A moving and thought-provoking portrait of a Bolivia haunted by modernity and climate change
Utama the title of Alejandro Loayza Grisi's debut feature, means 'our home' in Quechua. Set in the drought-ridden Bolivian highlands, Utama chronicles the decline in health of Virginio, and his wife Sisa, who are utterly at the mercy of the harsh weather conditions. The arrival 'from the city' of Clever, their grandson, accentuates the adversity they face in trying to survive, often walking kilometres in the heat of the desert to find water. When an uncommonly long drought threatens everything they know, they must decide whether to stay and maintain their traditional way of life or admit defeat and move to the city.
Director Alejandro Loayaza Grisi weaves moments of magical realism from Bolivian folklore throughout his narrative to generate mystery and wonder in such a seemingly sterile place and situation. As more and more Bolivians migrate to cities due to drought and climate poverty, Grisi's film is a shrill call of help for his country's rural population; poached and hunted by modernity and climate change, the condor and its people may be falling but with hope and change, can continue their cycle.
Hanno Jewell
Read our interview with Utama director Alejandro Loayza Grisi.
2. The Cordillera of Dreams
Patricio Guzmán, Chile / France
Guzmán completes his trilogy of films examining Chile's troubled past with an exploration of the Chilean Andes
Patricio Guzmán is Chile's most renowned documentary maker. His most recent film Cordillera of Dreams, remains true to a need to speak about the state of Chile and its fragmented society, through a similar holistic lens to that of his preceding films Nostalgia for the Light and The Pearl Button.
Guzmán analyses Chile through exploring its landscapes. This time, he chooses the vast Cordillera, which covers 80% of the country yet has been neglected apart from in the national psyche. The Cordillera at once is a steadfast mother and a barrier isolating Chile from the rest of the world. Through interviewing locals in Guzmán's birth city, Santiago, and including much of his own opinions and childhood experiences, Guzmán delves deep into the contradictory, backward state of Chile today and expresses, as always, his hopes for Chile to return to its childhood.
Rebecca Wilson
1. Argentina, 1985
Santiago Mitre, Argentina / UK / USA
A thrilling re-telling of Argentina's post-dictatorship trial
Argentina, 1985 recreates the most significant court case in Argentine history – the Trial of the Juntas – which aimed to bring Argentina's military dictatorship to justice, following the country's return to democracy in 1983. Argentina's dictatorship was one of the bloodiest of the 20th century, during which it is estimated that 30,000 people were murdered or disappeared.
Ricardo Darín (Secret in Their Eyes, Wild Tales) plays Julio Strassera, an irritable-seeming prosecutor in Argentina's civil court system who is initially terrified to find out that he will have to lead the prosecution for the trial of the nine military commanders from the 1976 – 1983 dictatorship, who still wield considerable influence within their fragile new democracy. However he is spurred on by his young deputy, Luis Moreno Ocampo (The Clan's Peter Lanzani), and together they assemble a young legal team of unlikely heroes for their David-vs-Goliath battle. Under constant threat to themselves and their families, they race against time to bring justice to the victims of the military junta.
This retelling of a real-life court case portrays how the country, emerging into democracy, was compelled to overcome generational divide to come to terms with its past.
Sarah Jacobs
Argentina, 1985 is one of two Latin American film to be shortlisted for Best International Feature at the 2023 Oscars.
Read the interview with Ricardo Darin here.


Follow Sounds and Colours: Facebook / Twitter / Instagram / Mixcloud / Soundcloud / Bandcamp

Subscribe to the Sounds and Colours Newsletter for regular updates, news and competitions bringing the best of Latin American culture direct to your Inbox.
Share: