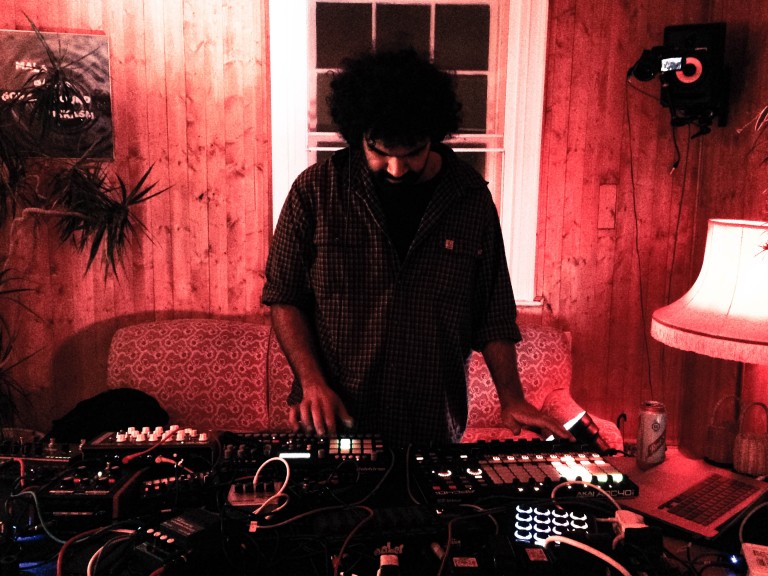 Fusing Cuba's Rich Rhythms with Electronics: An Interview With Ariwo
08 April, 2016
If you've not heard of Ariwo yet then you can be excused. The group is a brand new entity, put together especially for Manana Cuba, a new festival happening in Santiago de Cuba this May that aims to bring together forward-thinking electronic musicians and Afro-Cuban folklore artists for a true collaborative experience, attempting to show how Cuba can interact with the rest of the world in a creative and constructive way, a pertinent idea as improving relations with the US bring about more outside interest in the island.
The four protagonists in Ariwo are Iranian sound artist Pouya Ehsaei (a prominent artist in Iran's experimental music scene), Cuban percussion virtuoso Hammadi Valdes (who has worked with Irakere, Chucho Valdes and Carlos Acosta, to name just a few collaborators), Oreste Noda, who is also a Cuban percussionist, specialising in the conga (he's a big name in London's Latin scene, playing with Ska Cubano and Lokkhi Terra) and Cuban trumpet player Yelfris Valdes (who was a part of Cuba's iconic son band Sierra Maestra for over 10 years and has played with artists like Roberto Fonseca).
In terms of recorded output the group have just a video performance of their blinding Boiler Room set in London last year to show you (which you can watch below), but more is on the way, as we found out in our interview. Ahead of performing at Manana Cuba they will be playing along with A Guy Called Gerald at London's The Pickle Factory on Sunday 17th April as part of this year's La Linea Latin music festival.
Here is Pouya and Hammadi from the group to tell you a little more about Ariwo and their unique Afro-Cuban folklore meets electronic sound:
Could you tell us how Ariwo came about? What was the catalyst for this project?
Pouya: Ariwo was born out of my close friendship with Manana Cuba co-founder, Harry Follett, who is currently organising Santiago de Cuba's first Afro-Cuban folkloric and electronic music festival. The project's original aim was to connect the island's rich musical tradition with the electronic music community, but there was nothing really out there that embodied exactly what we felt that could sound like. In many ways Ariwo was our response; an experiment in how to fuse the island's rich rhythmic elements with electronic production processes in a way that would grab the attention and earn the respect of these two hugely diverse audiences.
What was your introduction to Cuban music Pouya?
Pouya: I've spent a lot of time talking to Harry and absorbing the recordings and videos that he brought back from Cuba. I started to work with them immediately, and by experimenting with the different elements I began to clarify how to adapt and build on them. It is all about experimentation for me. I need to change it, mangle it, make it bigger, smaller, deeper, longer, shorter, distort and filtered it to be able to understand it properly.
It also helped that we have such a strong Cuban collective in the band. Between trumpeter Yelfris Valdes, and percussionists Oreste Noda and Hammadi Valdes, they have won Latin Grammys, worked with Cuban icons like Carlos Acosta, Irakere and Sierra Maestra, and fused these sounds with contemporary artist like Gilles Peterson, MC Solaar, and bands like Lokkhi Terra. Working with them has been a great source of inspiration and, likewise, I can't wait to collaborate with local artists on the ground in Santiago as well.
What is the current situation in Cuba for the Afro-Cuban music that forms the musical base of Ariwo? Does it have a strong reputation? Do young people listen to it?
Hammadi: What makes all Cuban music special, is that it's a "mezcla", a mixture of all the influences present in Cuban culture, with a heavy emphasis on their African heritage. Despite being marginalised for many years, genres like rumba are very popular nowadays (with great support from the government and the institute of culture) which alongside other genres (reggaeton, Cuban hip hop, Cuban fusion like X Alfonso, the King) is redefining the sound of Cuba in the 21st Century.
Pouya: From chatting to Harry and Alain (Manana's Cuban co-founder) it seems that this new bridge with America is affecting the music out in Santiago. The younger generation are beginning to focus more on what is coming out of the US than their own incredibly rich musical heritage, but festivals like Manana and the work that Gilles Peterson is doing with Havana Cultura mean that there is now an awareness that these roots are hugely important to the international music community. As a band we want to show that Afro-Cuban folkloric music can exist in a new form while being true to these roots.
The big question everyone wants to know is how will the change in relations with the US affect Cuba. What impact do you think it will have on the electronic music being made in Cuba, if any?
Pouya: There is certainly a new wave of electronic music emerging from Cuba right now. Artists like Wichy de Vedado, Pauza, BJoyce and DJ Jigüe are emerging from the underground despite the technological restrictions they have had to battle against for most of their careers.
As the internet improves a flood of new music is shaping their musical direction and festivals like Manana are helping to support their development by arranging equipment donations by companies like Ableton, Native Instruments, Vermona, Elektron and Moog.
Does Ariwo represent the ideal of what Manana Cuba can be, in terms of its mixing of folklore with electronic music?
Pouya: It's not really my place to say, but if somebody were to tell me that I'd certainly be flattered! I must admit that the energy and electricity that I felt during the Boiler Room Session [watch this session below] was something really unique. I think it gave the band a sense of purpose and made us feel like there was something in the approach that we had chosen.
Aside from the Boiler Room video there is very little music for people to hear from Ariwo. What can people expect from the upcoming gig in London?
Pouya: There is a fair bit of new music in the pipeline. We are working on some new material which might even be ready in time for the show next Sunday. One thing that is for certain is that the Pickle Factory gig will be a lot noisier than the other stuff that you've heard from Ariwo.
And finally, let's have a little word about Manana. We're all very excited about this festival, ever since we heard about the fundraiser. What can people expect from the festival?
Pouya: Speaking to Alain it is clear that the drive on the ground is immense. This is the biggest international event that the city has held and the idea that pioneers like Quantic, A Guy Called Gerald, Nicolas Jaar and [Adrian] Sherwood are making that trip is pretty crazy for us all. Ariwo are going to be part of the collaborative period in the lead up to the festival which includes other international artists like Plaid, Gifted & Blessed, Kumar and Soundspecies. We will all be running workshops and collaborating with some of the finest musicians in the East of the island. Nobody really knows what will come out of this, but that is definitely part of the excitement.
Find out more about Manana Cuba, which will be happening in Santiago on May 4th-6th, at mananacuba.com
Ariwo will be performing in London on Sunday 17th April, along with A Guy Called Gerald, as part of this year's La Linea Festival. More details at comono.co.uk/live/ariwo

Follow Sounds and Colours: Facebook / Twitter / Instagram / Mixcloud / Soundcloud / Bandcamp

Subscribe to the Sounds and Colours Newsletter for regular updates, news and competitions bringing the best of Latin American culture direct to your Inbox.
Share: