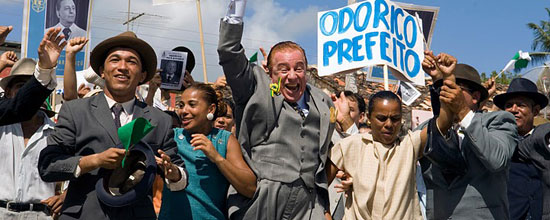 Brazilian Film Festival in London
10 August, 2010
Inffinito will be bringing the Brazilian Film Festival to London for the second year running. Eleven films in total will be shown from September 1st 'til 5th, beginning with the BAFTA-hosted opening night featuring the premiere of Lula, The Son of Brazil. Based on the book of the same name it tells the story of how this young mechanic came to be Brazil's current president. It's one of the highlights of the festival, along with Blue Eyes by Who Killed Pixote? director José Joffily and Tamporo looking at Brazil's varied settlements, with its populations spread among shanty towns, the Amazon, the countryside and many other differing locations.

The programme for the festival is as follows:
Wed 1st September – Opening Night
6.30 PM – LULA, THE SON OF BRASIL (12) + Q&A with Lucy Barreto and Paula Barreto
(Lula, O Filho do Brasil) UK Premiere
Brazil 2009 Dir. Fábio Barreto 128min
Based on the book of the same name by Denise Paraná, Lula, the Son of Brazil tells the story of a common man, his family and his extraordinary ability to rise above hardship. The film narrates the path of Luiz Inácio Lula da Silva from his birth in 1945 through the year 1980 which marked two significant events in his life: his first election as official leader and representative of the people and the death of a person who was extremely influential in Lula's life and ways of thinking: Dona Lindu, who in raising eight children on her own, reminded them constantly that "no one in this family will ever become a criminal or a prostitute." And dignity prevailed.
Tickets:
Standard – £12
Concession – £10
Buy tickets
Ticket Web: 08444 771 000
195 Piccadilly London W1J 9LN
The rest of the films will all be shown at Apollo Piccadilly between 2nd and 5th September
Thu 2nd September
6PM – THE WELL BELOVED ONE (12)
(O Bem Amado) UK Premiere
Brazil 2010 Dir. Guel Arraes 107min
Based on the literary work of Dias Gomes, O Bem Amado tells the story of the mayor of Sucupira, Odorico Paraguaçu, whose has as the main aim of his administration the opening of a cemetery. On one side he has the support of the Cajazeiras sisters, on the other, he comes up against strong opposition led by Neco Pedreira, owner of the local newspaper.
8.30PM – TIME OF PEACE (16)
(Tempos de Paz) UK Premiere
Brazil 2009 Dir. Daniel Filho 82min
The entire story takes place on the 18th of April in the year of 1945. Battles had ceased in Europe, but Brazil still found itself technically at war. The encounter takes place in the immigration office of the port of Rio de Janeiro: between the interrogator, a customs official and former-torturer for the Political Police of President Vargas and a Polish ex-actor, who had lived through the horrors of war, but who is suspected of being a Nazi fugitive. The film portrays a critical period in Brazilian history and speaks of Manichaeism and the fight for life.
Fri 3rd September
6PM – SO NORMAL 2 (14)
(Os Normais 2) UK Premiere
Brazil 2009 Dir. José Alvarenga Jr. 75 min
It's a mistake to think that Rui and Vani's saga had come to an end. Luiz Fernando Guimarães and Fernanda Torres bring back their outstanding characters from Os Normais. Just like in TV Globo's series and the first feature film, laughs are guaranteed, when the couple decides to spice up their relationship and go looking
for someone to join them in their adventure.
8.30PM – TIME OF FEAR (16)
(Salve Geral) UK Premiere
Brazil 2009 Dir. Sérgio Rezende 119 min
Lucia, a recently widowed piano teacher is shocked to find that her only son Rafa has committed murder. Desperate to free him from prison, she becomes involved with the criminal organization responsible for a series of acts that will eventually turn the biggest metropolis in the country into a living hell.
Sat 4th September
3.30PM – TAMBORO (12)
(Tamboro) UK Premiere
Brazil 2009 Dir. Sergio Bernardes 100 min
Exposing deforestation in the Amazon, the conflicts over land rights in the countryside, and the growing shantytowns and increasing criminality in huge urban centres, Tamboro tackles the major socio-environmental issues of Brazil. Creating a panorama of Brazilian civilization through amazing imagery, this film roves around the country, painting a colourful mural of Brazil, from the northern peak of Mount Roraima to the southern valleys of Aparados da Serra.
6PM – LOVE STORIES ONLY LAST 90 MINUTES (14)
(Historias de Amor duram apenas) UK Premiere
Brazil 2010 Dir. Paulo Halm 90 min
Zeca is a young writer immersed in a novel he's incapable of writing. He lives an idle life. He is 30 years old, but behaves like a teenager. He is talented yet lacks focus: he'll write two sentences and then give up. He has a strained relationship with his wife Julia, as a result of their conflicting temperaments: Zeca lacks motivation, while Julia knows exactly what she wants. Zeca is unhappy, but doesn't seem to care, until the day he starts to suspect that Julia is cheating on him and, much to his dismay, with another woman.
8.30PM – BLUE EYES (16)
(Olhos Azuis) UK Premiere
Brazil 2010 Dir. José Joffily 111 min
Marshall, chief immigration officer of New York's JFK Airport, is facing compulsory retirement. On his last day of work, drunk and blinded by prejudice, he harasses a group of Latin American visitors, exposing them to a series of humiliating events that result in the death of a young Brazilian. Years later, after serving a lengthy prison term and filled with guilt, Marshall goes to Brazil in search of the victim's daughter.
Sun 5th September
3.30PM – RITA CADILLAC – THE LADY OF THE PEOPLE (18)
(Rita Cadillac – A Lady do Povo) UK Premiere
Brazil 2009 Dir. Toni Venturi 75 min
Queen of truck drivers and gold miners and godmother of prison inmates. A sex-symbol in the 80s, Rita Cadillac was the fantasy of a whole generation of Brazilian men and boys. Now as a middle-aged woman, she has starred in three adult films in order save up for her retirement. An intimate portrayal of the star and a deeper look into her private life.
6PM – ELVIS & MADONA (16)
(Elvis & Madona) UK Premiere
Brazil 2010 Dir. Marcelo Laffitte 100 min
Elvis & Madona is a romantic comedy that deals with an unusual subject in a delicate and realistic way: a love story between a young lesbian named Elvis and a transvestite called Madona. Set in Copacabana, one of Rio de Janeiro's most well-known neighbourhoods, the screenplay includes a full array of character types and, in following both protagonists' journey, illustrates conflicts generated through behaviour and custom. As a contemporary and agile film, its soundtrack echoes the latest musical trends. Nevertheless, it is essentially a love story, proving that love can exist in any situation.
8.30PM – THE STORY OF ME (12)
(O Contador de Historias) UK Premiere
Brazil 2009 Dir. Luiz Villaça 107 min
At six years old, Roberto Carlos Ramos is sent by his mother to an institution for poor children in Belo Horizonte. Endowed with a fertile imagination, at 13 he's stil illiterate, having escaped more than 100 times he is diagnosed as irredeemable. An encounter with a French teacher will change Roberto's life for ever.
Tickets:
Standard – £10
Concessions – £8
Buy Tickets
Box Office: 0871 220 6000
19 Lower Regent Street London SW1Y 4LR
More info:
Brazilian Film Festival in London

Follow Sounds and Colours: Facebook / Twitter / Instagram / Mixcloud / Soundcloud / Bandcamp

Subscribe to the Sounds and Colours Newsletter for regular updates, news and competitions bringing the best of Latin American culture direct to your Inbox.
Share: