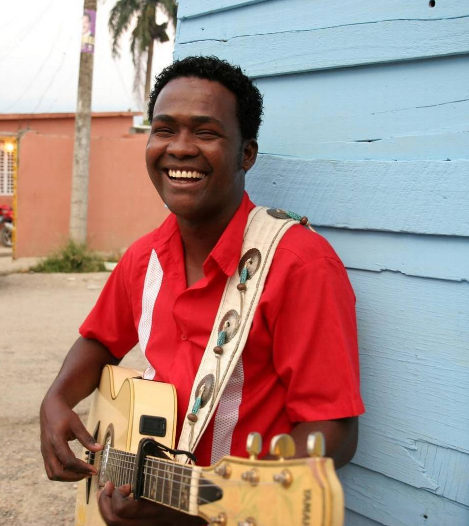 Benjamin de Menil
Dominican 'roots bachatero' Joan Soriano to play Carnegie Hall
28 January, 2016
What does it take to get to Carnegie Hall? As the old joke goes, "Practice, practice, practice."
For roots bachatero Joan Soriano, who will make his debut there on Saturday, Jan. 30 (tix), there was certainly practice, but it didn't come in the way of formal lessons, the way most who grace the stage at Carnegie Hall likely got there. The long road to this worthy milestone involved lots of determination and the backing of his family and friends in the rural campo of La Luisa, a region of Monte Plata, a province that sits north of Santo Domingo in the Dominican Republic.
You see, long before crowdsourcing on the Internet was a thing, folks in his rural neighborhood took up a collection to help a then 11-year-old Soriano purchase a "real" guitar. The boy had shown he was a natural talent, playing traditional bachata at backyard gatherings with his brothers, using a guitar fashioned out of a cooking oil can and nylon fishing line.
The guitar they had in mind for the young Soriano was being sold by a neighbor, who was willing to let the "original" instrument go for $70. In the end, the collection yielded only $25. Luckily, Soriano's uncle, who lived and worked in the country's capital, was able to cover the rest.
Finally, Soriano, the guitarist for "Los Candes" (as he and his brothers were called because their father's nickname was "Candelario"), had a real instrument. Only the first time he used it to play a backyard party, he didn't go near the guitar for days. His father, who worked for very low wages in rural farming, scolded the young Soriano.
"He said, 'If you weren't going to work out as a musician, why did we do all this to buy this guitar?" Soriano recalls. "But it was the strings; they were hurting my little fingers. Parties in el campo were not like others. They'd start at 6 p.m. and go till 6 a.m. We'd get one short break to eat a plate of dinner right in the yard, and then we got right back to playing."
Soriano's love of playing prevailed, and learned to deal with the guitar he was given. Though he and "Los Candes" continued playing neighborhood parties, Soriano had to drop out of school in the sixth grade, to help his parents on various agriculture jobs as a way to keep food on the table for their family of 15. Throughout it all, he kept thinking of a way to get out.
"I asked God for help," he says, "Everything that has happened to me has happened because of God. I'm not this big Christian, but I'm a good person. I like to live in peace and don't want to have problems. But I knew I wanted more."
Me Decidi (I decided)
One day, as he and his parents toiled on a mountainside under a blazing sun, a 13-year-old Soriano worked up the courage to ask them a question.
"I said, 'Cande, am I a bad son? Do you remember the last time you had to spank me?' My father said, 'No. We don't have to hit you. You're a good son. Why do you ask?'
"I said, 'Because I'm leaving tomorrow.' My mother said, 'Well we're all going with you,' and she prayed for God to help us."
The family moved to Villa Mella, a poor Santo Domingo district that is the birthplace of bachata. 
"I went looking for work, and one night I stopped at La Grand Parade, it's a place where all bachateros played in that era. Somehow I got the courage to ask someone in the band if I could sing a song. The man said no, but he gave me an address to a house," he says.
Soriano showed up and gave it his all.
"Afterwards, they all get together and they're whispering. I was nervous. I thought they hated me. They asked me where I lived and I told them we were staying with one of my uncles. They said, 'Go get all your clothes and tell your parents you're going to be in a band for three nights a week.' I was hired as the second guitarist and vocalist, and I was paid more than their other singer. I couldn't believe it," Soriano says.
From there, he would go on to play and grow his musical chops with several bands, all surprised that he played by ear, and couldn't read a lick of music.
"This is why I say God helped me. I've recorded songs with [bachata singer] Zacarías Ferreíra, [merengue singer] Toño Rosario and some other greats. It was a gift that God gave me," he says.
It's common knowledge that bachata is one of the most popular Latin music genres all over the United States, particularly in the Northeast, where Dominicans are among the largest Latin American immigrant groups. It's their influence that spurned the success of popular contemporary bachata artists such as Romeo Santos and his former group, Aventura, as well as Prince Royce.
But Soriano vows to continue to make the more rootsy traditional style that sounds, naturally, like something you'd here in a rural backyard family gathering. As was noted in a recent article in the Miami Herald, "… acts like Soriano who play in an old-school style are exceedingly rare in the Dominican Republic. Soriano is more popular abroad than at home, touring in the United States and Europe and featured on NPR and in The New York Times, and topping Billboard's Tropical Music charts."
So as his style keeps him on the road, it rewards him with prestigious gigs, like this Saturday's debut at Carnegie Hall, where he'll stick to tradition.
"I like the essence of traditional bachata,' Soriano says. "It's what I grew up listening to and it's what I'll play at Carnegie Hall. It makes me emotional to think about it. I'm told it's a very famous place.
"I'm so proud because of where I'm from. The one thing I can say with confidence is that, today, my family does not live off of farming. I don't work in farming. I'm doing what I love," Soriano adds.
Watch Soriano (joined by his siblings, who are in his band) in this 2012 "Tiny Desk Concert" from NPR music. Follow him on Facebook and pick up his latest album, Me Decidi (2015), on iTunes.

Follow Sounds and Colours: Facebook / Twitter / Instagram / Mixcloud / Soundcloud / Bandcamp

Subscribe to the Sounds and Colours Newsletter for regular updates, news and competitions bringing the best of Latin American culture direct to your Inbox.
Share: