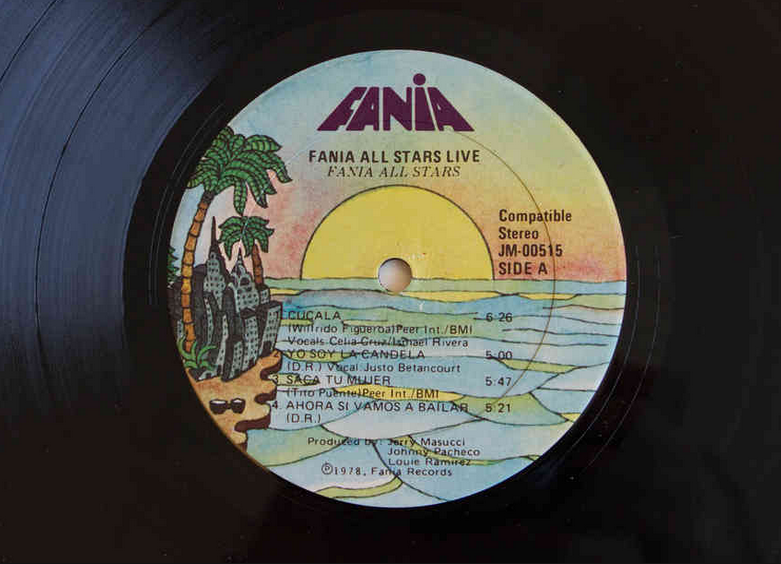 Fania celebrates 50 years with events in NYC
19 June, 2014
Record labels—as in the actual sticker on vinyl records—were always fascinating to me as a kid, thanks to my dad's absolute love and care for his discos, which my brothers and I were rarely allowed to touch. Most were labels emanating from his native Colombia, such as Discos Fuentes and Discos Tropical, but there was also Fania Records from New York, and their logo was lovely. Their album covers? Artistic. And the music? Legendary.
As conga player Eddie Montalvo, who joined the label in the early 1980s, told the New York Daily News, "We had a lot of ingredients go in to make great music and lay the foundation of what we call salsa. We were like the Latino Motown." Indeed they were.
This year, Fania, which cemented the careers of salsa greats like Hector Lavoe, Cheo Feliciano, Celia Cruz, Ray Barretto, Larry Harlow, Willie Colon and Ruben Blades, among many others, celebrates 50 years with a host of events in New York City.
There are outdoor concerts, which kicked off at Central Park Summerstage on June 14 with a fantastic evening of salsa with original Gran Combo member, Roberto Roena, legendary DJ Little Louie Vega, and psychedelic salseros, La Mecanica Popular. (See dates for upcoming outdoor concerts here.)
Fania has also teamed up with our friends at Remezcla for "Armada Fania," a summer-long DJ/live music series with a pop-up shop, running from June 19 to August 28.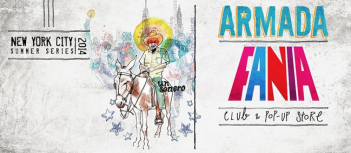 The series will launches tonight—June 19—at SOBs with a set from the legendary DJ Rich Medina, known worldwide for his sonic journeys through hip-hop, house, Latin, Afrobeat, funk and soul over the past 20 years, and opening sets by Geko Jones, co-founder of the tropical/cumbia flavored Que Bajo?! party and Dutty Artz label, and the now New York City-based DJ, Riobamba, who got her start in Boston as half of duo Pajaritos, where she co-founded the transnational bass party Picó Picante.
I asked a few DJs, writers, and music business folks, how they were influenced by the illustrious label and its artists:
DJ Geko Jones: I moved to the Bronx in 1986. My dad ran a small nightclub in Far Rockaway called Calypso and had Celia, Tito and a lot of the greats played there. My aunt used to slay at the salsa competitions back in Puerto Rico before all this dance "on 2" bullshit. Fania was more than a label; it was a worldwide empire. To be able to put on those shows in Africa back in 1974, and fly out an orchestra that big was a huge enterprise. The wealth of stories and liner notes from 50 years of Fania discography are one of the most accurate historical records Latin music history and I salute them the way any front line grunt would salute their 5-star general.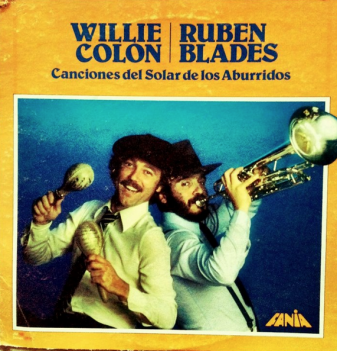 Journalist Juan Carlos Pérez-Duthie: I grew up in Puerto Rico during Fania's heyday, with songs that were part of the school dances that I went to, and that were on the radio at all times. Looking back now, I can say that, perhaps as most people of my age then, I was not aware of the incredible social significance this music had, and of the innovations that its musicians brought forth. Fania introduced older Latin stars, like Tito Puente and Celia Cruz, to new generations, and catapulted emerging talents into stardom (Héctor Lavoe, Rubén Blades, Willie Colón).
Fania's music was a cri de coeur that came mostly out of Latinos in New York City who were disenfranchised by the mainstream, yet were talented and smart enough to spread their messages with irresistible hooks, virtuoso techniques and intelligent lyrics. Such music, which I believe united Latinos like at no other time in this country, has not only withstood the test of time, but has made evident how creatively bankrupt much of today's Latin music is.
Director, lead vocalist of La Mecánica Popular, Efraín Rozas: Growing up in Peru, salsa was always around—on the radio, at parties. However I was really into rock, jazz, and experimental stuff. But when I discovered artists like Ray Barretto and Rubén Blades, I found all what I loved of those genres in the context of Afro-Latin Music. It blew my mind.
AfroTaino Productions' Rahsaan Lucas: I came across the Fania brand by 'accident', thumbing through disco and funk record crates of my college radio station's inventory, looking for the perfect beat. I found Willie Colon & Ruben Blades' Siembra album. After dropping the needle on "Plastico", I was immediately seduced by that mean, strutting bass line, peppered with a Philadelphia Sound-style shuffle beat. By the time the string section stabs its way over the rhythm, I knew I had done Mr. Colon plenty of injustice by not knowing his whole discography, and I had failed miserably as a soul music aficionado, collector, and trend-spotter.
The more I listened, the more I realized that this was a chapter of my life that I had somehow suppressed to the far reaches of my mind. I hungrily searched more and more for Colon, Blades, and Fania Records. And like a hidden capsule opened in my soul, memories started to flood my mind of growing up in New York City as a child, attending Saturday kiddie parties where salsa albums playing all day on Fisher-Price phonographs as Spanish-speaking curvy brown women crowned with hair rollers danced for hours, and complained about going to work on Monday. I remembered knowing all the words to 'Oye Como Va' before first grade, and more importantly, how happy I felt as a child surrounded by Latin music.
Fania Records is a major gateway to the road of my self-discovery: the iconic label allowed me to preserve and cherish those once-buried elements of my youth, and gifting me a healthy portion of my identity.
Afrotaino Productions' Marángeli Mejía Rabell: Fania's music was a critical force in my childhood as it expanded my understanding of what salsa is through its unique sound and inclusion of other genres (a bit of bossa nova, disco, etc.); opening my eyes and ears to endless musical possibilities. Siembra played a key role in my social and political awakening by teaching me to embrace my responsibility to serve as an agent of change as a Latinoamericana.
Enrique Chi, lead singer and composer for Making Movies, who released a cover of Hector Lavoe's "Aguanile," earlier this year: Fania is the most important Latin label in the United States. No one else represented the sound of immigrant Latinos in New York better than them. Through those songs, a few early Ruben Blades tunes come to mind, you get a glimpse of what New York city life was like for a Panamanian, Puerto Rican or Cuban immigrant.  I rarely go a week without listening to something from their discography.
DJ and writer, Juan Data: Growing up in middle-class Argentina, a salsa-free environment if there's any in Latin America, I can't really claim Fania records as a primary influence. In fact, when I started DJing Latin music, over a decade ago, not including salsa in my sets was what distinguished me from the herd. So, in a sense, Fania music reached me really late in my life and my DJ career, once the record label changed owners and they started reissuing their old catalog.
I think it wasn't until five years ago that I started to first explore the early Fania music and then incorporate some of it on my sets. Now I couldn't imagine a DJ set without at least a couple Fania tracks. I love the fact that they keep vinyl alive, that they put a lot of care and dedication in their compilations and that they've been allowing DJs and producers to remix their catalog, updating it to the current dance floors.

Follow Sounds and Colours: Facebook / Twitter / Instagram / Mixcloud / Soundcloud / Bandcamp

Subscribe to the Sounds and Colours Newsletter for regular updates, news and competitions bringing the best of Latin American culture direct to your Inbox.
Share: