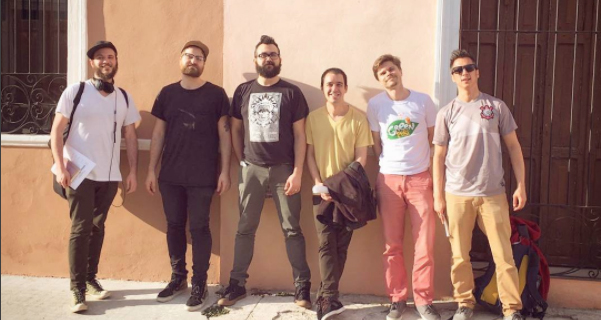 When Latin America Inspires a Roots Pop Band from NYC
29 September, 2017
On these digital pages of Sounds and Colours, we often write of Latin American bands who tour in Europe and the United States and are, at times, inspired by the music they come across while on the road. Does the same happen to American bands that visit Latin America?
Yes, says New York City's Karikatura, an American roots pop band that toured Latin America earlier this year and came away with an experience of a lifetime. We talked to Morgan Greenstreet, the band's drummer, about their experience touring Chile, Dominican Republic, Mexico and Panama, while on the American Music Abroad program, a cultural exchange program that sends bands on international educational tours.<
Sounds and Colours: How does this American Music Abroad program work?
Greenstreet: The program is funded by the USState Department and administered by the non-profit American Voices. We auditioned for two years and got into the program last year. We did a five country tour, visiting Chile, Haiti, Dominican Republic, Mexico (Yucatán) and Panama in five weeks. Alongside public performances, we also did a lot of workshops in schools and cultural centers, everything from coaching a community brass band in rural Haiti, to leading a workshop at the prestigious Fundación Danilo Pérez in Panama City.
S&C: How did touring in Latin America, in particular, influence you and the band's perspective on your music?
Greenstreet: We had very different experiences in every country, yet generally, the tour deepened our love for Afro-Latino music and culture. We were able to absorb a lot of music in a short period of time, an experience that will resonate in our listening and creative production for years to come. The most lasting, meaningful musical experiences we had as a group were the collaborations we did with local musicians in each of the countries we visited: We worked with BélO in Haiti, La Minga Musica in Santiago de Chile, Afrodisiáco in Panamá, Toné Vicioso & Aumbata and José Duluc in Santo Domingo, Las Hijas Del Rap and Mr. Martinez in Mérida, Mexico.
We took it upon ourselves to learn at least one local pop or folk song in each country, and perform it in public, and a few of these songs are incorporated into our regular sets now. These songs are on our Youtube channel, Suitcase Series, including Peregrina, a trova Yucatéca.
While performing these songs, the response was overwhelmingly positive. The experience of having audiences respond to the familiar in a foreign package was really special. We interpreted it both as a kind of respect we could give, to show that we're not culturally isolated, that we have open ears and hearts, and also an experience of validation we could give, especially for kids, to hear a local song performed by a foreign band.
This experience inspired us to do more collaborative work, following up with musicians we met on tour and planning future recording project. For me personally, I want to go back to Haiti! Also, I pushed myself to make mixes from each country we visited. I'm looking forward to spinning some of these tunes in my debut live DJ set for the Karikatura presents: Ghost Light Orchestra afterparty at Unit J this Saturday, the 30th of September.
S&C: Why are you guys doing this special show w strings and horns, and does this include bringing on guest musicians?
Greenstreet: This kind of special, expanded performance is something we've wanted to do for a while, to realize our music live in the fullest possible expression. When we record our music, we often use a broader palate than the instruments we perform with live. This kind of concert seems especially appropriate as we prepare to release our new album Ghost Light, because the music on that album is intimate but also orchestral and uses a lot of layers of percussion, vocal harmonies and even strings. We've also never performed some of the songs on the album, so we're looking forward to realizing this music live, with this expanded ensemble. We also love collaborations and this gives us to opportunity to invite friends of the band in a little closer. We'll be inviting Alba Ponce De León, of the group Alba and the Mighty Lions to sing with us, and a special guest to-be-announced as well! Also we'll be filming the evening.
S&C: What's next for Karikatura?
Greenstreet: New music! After a successful Kickstarter push and a really excellent sixth European tour, we're putting the final touches on a new album Ghost Light, which will be out in early 2018. We couldn't be more excited about this music: it's more intimate, more personal, more honest than anything we've released to date. Also there's an Aaliyah cover in the mix, so there's that! We're focusing on international touring for now, planning our seventh European tour for next summer.
Watch Karikatura perform at Unit J in Brooklyn on Saturday, the 30th of September. Follow the band on Facebook.

Follow Sounds and Colours: Facebook / Twitter / Instagram / Mixcloud / Soundcloud / Bandcamp

Subscribe to the Sounds and Colours Newsletter for regular updates, news and competitions bringing the best of Latin American culture direct to your Inbox.
Share: