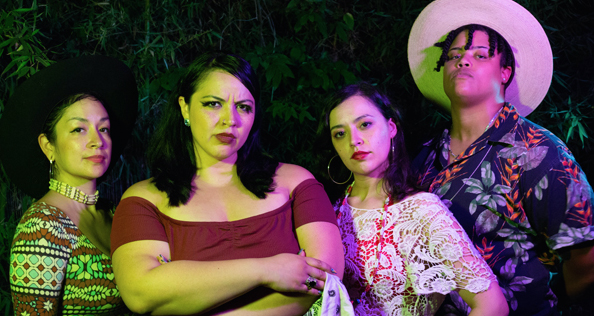 New music: 'Espíritu' by Mamis of Austin, Texas
19 October, 2018
Meet four-piece psych surf punkrock band, MAMIS.
Formed in 2015 in Austin, Texas, the capital city best known for hosting the massive SXSW festival each year, Espíritu is the quartet's first release. We found their bilingual lyrics, which are focused on resisting oppression, to be very empowering for women and people of color. We just had to have a chat with them to learn more about this very unique band.
MAMIS is: Naomi Caballero (lead vocals), Nicole Licea (bass), Lisa Hernandez (drums), and Ash Hicks (guitar). Their new record is on Discos Peligrosa.
Sounds and Colours: How did you guys get together?
Nicole: Lisa and I used to play together in a group called Sonoita. One year we played here in Austin at the Mexic-Arte museum, and after our set Ash came up to me to chat. She said she was interested in trying out some psych/surf inspired stuff, so the three of us started jamming and feeling out the creative process. I knew Naomi from the Son Jarocho community in Austin as a singer and dancer and thought she would be a good fit for vocals, so we invited her to join. Three years later and here we are!
Naomi: I met the MAMIS through community organizing in Austin through various cultural-political spaces. Like Nicole mentioned, we met through the Son Jarocho community (traditional folk music from Veracruz, Mexico) which actually inspired me to begin singing and playing guitar (jarana) about 10 years ago. I met Ash while volunteering with a community based childcare collective that supported the Mamas of Color Rising, midwifery collective. Lisa and I met when we had radio shows on a web based radio station.
S&C: What is the song/music writing process for you like?
Nicole: It varies, but it is usually an organic process and sometimes takes us a while to get something where we like it. A lot of times we play with different riffs and beats until we get something we like enough that we want to keep playing it. We usually fit lyrics to songs after the instrumental parts are written, but the structure of the song will vary depending on how much written content we end up with, or how long we want the song to be. Most songs are written by Naomi and, but we've all added our input in different ways. For example, "Let Go" was based on something Lisa had written, which I tweaked a bit to fit instrumentals were working on. Right now we are focused on writing new material, and are planning to expand our sound and our change up our live set. So this process is something we are actively working out at the moment.
Naomi: We usually write all of our own parts instrument wise and I write the majority of the lyrics. I've enjoyed writing poetry since a young age so writing lyrics has been a fulfilling experience for me but definitely a learning process. Collective songwriting can be a challenge at times but I feel is very rewarding since we are equally creating and involved in producing our finalized material.
S&C: Who are your musical influences?
Ash: Always—Afri-Jazz, chicha, Cumbia, Brazilian music of all genres. In this instance: Lil Baby, Anna Domino, Blood Orange.
Lisa: My drum style comes from influences of punk, danza, surf, jazz, cumbia… I've been into Combo Chimbita lately.
Naomi: Mexican folk music – corridos, rancheritos, son jarocho, cumbia, native/indigenous song, conscious rap/hip hop, especially female emcees, riot grrl punk, classic singer/songwriter acoustic rock. Some of my favorite artists are Erykah Badu, Anita Tijoux, Selena, Nitty Scott, Kathleen Hanna, Alice Bag, and Janis Joplin.
Nicole: Thanks to my Cuban/Venezuelan family and growing up in an immigrant latino community in deep South Texas, I have a deep love for salsa, cumbia, Norteño and Andean folk music. I am also very much inspired by Chicha, a psychedelic version of traditional cumbia which originated in Peru in the '70s. In my teenage years I fell in love with punk, d-beat and post-punk, and have enjoyed revisiting and exploring that with some of our songs.
S&C: We love that you have bilingual lyrics and heavily focus on empowering women and people of color, and resisting oppression. Why do you feel it's important to speak to this demograpic?
Ash: Although our music is for POC/womyn definitely, it's also important to me to focus on the intersectionality and empowerment of all of our identities simultaneously working together. As a black, GNC (gender non-conforming), working class person my representation is revolutionary in and of itself. So even without our music or lyrics—our mere presence, in this scene with this platform is already an act of radical expression that should empower any and all of the identities that we comprise ourselves.
Lisa: Being a part of of MAMIS and working with other POC womyn has brought much joy to my life. We've been able to hold space for each other in uplifting ways and we aim to share this spirit of collaboration through our art, our music. It's important to create in solidarity and take up as many spaces to build and discuss new ways, forgotten ways, of living in this world and reimagining our ways of being. Storytelling and music is powerful! We take all those pieces from our cultures/identities and carry that forward in this way.
Naomi: Life can be a struggle as a working class womyn of color, especially in the times we live in where inequality and violence towards our communities is so prevalent. As a feminist from the borderlands who is proud of my history and of my body (being a plus size body positive full figured chingona can be hard in the entertainment industry), I feel it's part of my/our natural calling and purpose to share light, love and medicine to our sisters through music. Our music and lyrics as well as live and recorded performances create spaces of healing and celebration by opening honest dialogues about our existence, opinions, and experiences in this world, which is so important in growing healthy, safe and strong communities.
Listen to "Agua Es Vida" by MAMIS below, and grab their album on most online music dealers, such as iTunes.

Follow Sounds and Colours: Facebook / Twitter / Instagram / Mixcloud / Soundcloud / Bandcamp

Subscribe to the Sounds and Colours Newsletter for regular updates, news and competitions bringing the best of Latin American culture direct to your Inbox.
Share: