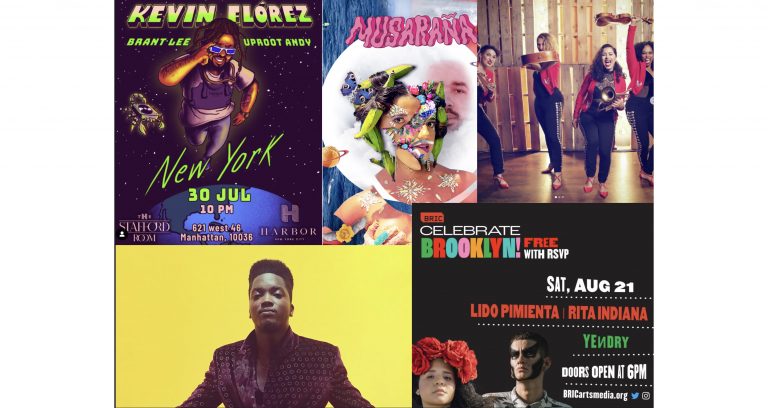 On Our Radar: Music (& Eats!) for a Hot NYC Summer
28 July, 2021
New York City is quite hot and rainy this summer, and the music keeps coming from our friends who call the Big Apple home, as well as those who will be in town for shows at various venues. We also included some food extras for you to keep your energy up for dancing!
Musaraña's 'Munchie Sexual' & debut show in Brooklyn
Boricua singer María Laboy and producer Andres Rigau—the duo behind the new music group Musaraña (which they tell me is jargon for random thoughts or a wandering mind) — have created a space where Latinx identity is centered and reclaimed for a new generation. This world includes flying tostones (yum!) and imagery and music that is at once campy and incredibly profound.
The duo debuts their video for their single, "Munchie Sexual," today, and the album will drop on the 30th of July, followed by a debut show in front of Williamsburg's Caribbean Social Club on the 31st of July at a 4 p.m. block party.
The video for their first single, "Munchie Sexual" turns old concepts around Latinx sexuality on their head, by mixing exaggerated imagery with campy undertones. It is a surreal Latinx visual trip that finds singer Maria Laboy getting inside a bathtub full of greasy 'tostones' that fly, dancing under pink skies with a futuristic tribe, and engaging in a full 'despojo' (energy release) dominatrix-style encounter.
Uproot Andy and Colombia's Kevin Florez in midtown
Champeteros, get ready, because Cartagena's "Rey de la Champeta Urbana," Kevin Florez, is coming to New York City!
The Cartagena native, whose hits "La Invité a Bailar" and "Con Ella" ushered in the subgenre known as champeta urbana nearly a decade ago, performs at Harbor nightclub's Stafford Room along with Brooklyn/global citizen Uproot Andy behind the decks. (We'd be remiss if we didn't mention "Lelo," Uproot Andy's latest production with Congolese singer, Sarah Kalume, and the collective known as Moonshine. We love it!)
Get your tickets to the show, which takes place at 10 p.m. on Friday, the 30th of July.
Flor de Toloache at Little Island
The ladies of mariachi Flor de Toloache have made the inaugural list of performer's for NYC's new Little Island park at Pier 55 with a performance on the night of 15th of August. It's all part of NYC FREE, curated by Mikki Shepard, celebrating the creativity of New York City's artists and the resilient spirit of all its people with four weeks of free live performances at Little Island. With performances occurring throughout the park every week, come and enjoy shows of innovative dance, experimental music, interactive poetry, late-night comedy, and more! Tickets here.
Lido Pimienta and Rita Indiana at Celebrate Brooklyn
The Dominican-born, PR-based cult hero RITA INDIANA fearlessly combines elements of merengue, electro, boogie, punk, urbano, and metal, pairing her singular sound with lyrics that deliver a fierce message of LGBTQ and women's rights. She shares the stage on Saturday, the 21st of August, with self-described "Afro/Indigenous/Colombian/Canadian/punk/folklorist/traditionalist/transgressive/diva/angel" Lido Pimienta and the boundary-pushing Dominican-Italian singer YEИDRY. This performance is free but RSVP for first some, first served tickets here.
Check out Pimienta's Grammy performance below.
Cimafunk returns to the Blue Note
We know Cuba's going through it right now with the people protesting about various injustices at the hand of their government in the wake of COVID-19, travel restrictions limiting tourism, and lots more. This makes an announcement by the historic jazz club The Blue Note about Cimafunk's forthcoming performances even better as we are grateful he is able to travel.
The visionary performer will bring his electrifying mix of funk and soul to the West Village nightclub on the 26th of August 26 and 2nd of September. It's Cimafunk's first U.S. show since his 2019 Blue Note Jazz Club debut. Tickets are available here.
Eats: 'Caja China' pork at Oaxaca Taqueria in Brooklyn and the Bronx and Queens Night Markets
Oaxaca Taqueria's Jon Jerman has been serving the tastiest roast pig using a unique and legendary way of roasting a pig, La Caja China, at his Boerum Hill, Brooklyn, location. Jerman explained this method makes sure that the roasted pig is tender and moist as traditionally cooked back in the 18th century.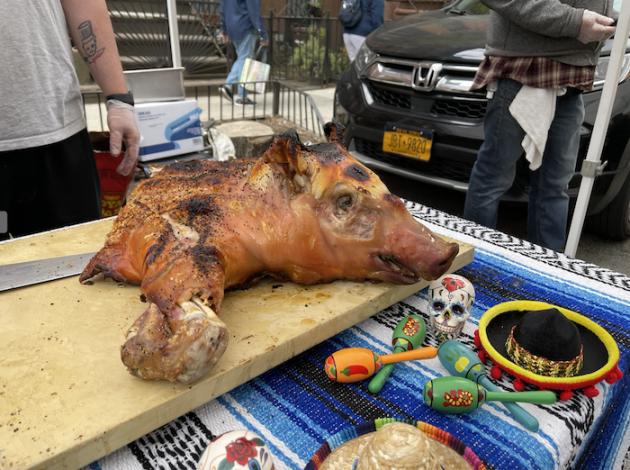 The New York City boroughs of the Bronx and Queens both have 'night markets' which feature a ton of food vendors selling the best of international cuisine, as well as music and performances. The markets make for a nice night out for the family.
We highly recommend trying ANYTHING to eat at the Bronx Night Market, which was founded by Marco Shalma, who is doing great work for the borough they call 'the boogie down.' Check out scrumptious food shots on their Instagram.
Newer to the scene is the Queens Night Market near Flushing Meadows Corona Park. Queens is one of the most international boroughs in NYC when it comes to cuisine. See more at their Instagram.

Follow Sounds and Colours: Facebook / Twitter / Instagram / Mixcloud / Soundcloud / Bandcamp

Subscribe to the Sounds and Colours Newsletter for regular updates, news and competitions bringing the best of Latin American culture direct to your Inbox.
Share: