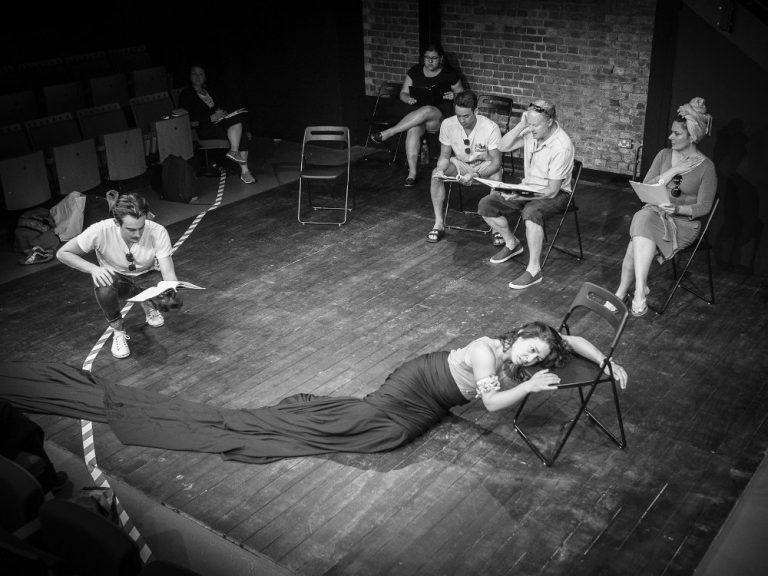 Out of the Wings Festival 2019
30 July, 2019
Taking over the Omnibus Theatre in Clapham for five days from (30th July – 3rd August), Out of the Wings Festival is broadening South London's horizons with a series of untapped, translated playwrights from both the Spanish-Portuguese speaking world, and also from the South American Spanish community across the pond. 
The festival will present unheard international stories, cultural fables, interactive workshops, talks and events from Spain, Portugal, Uruguay, Colombia, Cuba and Chile. The story of a young Portuguese boy in the midst of a psychosis, two Spanish men who fail to decipher a joke from reality and the journey of a woman living on a tightrope from an award-winning Uruguayan author, all open our eyes to a world that has no limits. 
Showcasing the work of some of the six country's leading literary talents, dramatists and emerging voices, the collective goal of the festival is to open the eyes of an audience from all backgrounds to factual stories and plays that re-imagine figures in a different setting while giving a new existence to 20th century texts on stage.
With so many fresh, exciting plays and workshops to attend, we've collated a list of our top five:
Our Out of the Wings Festival Picks
Tuesday 30th July
Cassandra Sandra at the Omnibus Theatre at 7.30pm (Chile) – Writer, Gabriela Aguilera, Translator, William Gregory – Touching on themes of grief, nostalgia and loss, Cassandra Sandra is a Chilean play by Gabriela Aguilera that's bitter-sweet, poetic masterpiece gives us faith in humanity by demonstrating the significance of family and the power of the kindness of strangers. The play was made possible thanks to a collaboration between the Chilean Cultural Ministry and the British Council. 
Wednesday 31st July
Fernando and his Grandmother at the Omnibus Theatre at 7.30pm (Portugal) – Writer, Armado Nascimento Rosa, Translator, Suzannah Finzi – "It's the voices, boy, the voices". Touching on mental illness, from his infancy, a young boy has lived in an illusionary world in the shadows of his demented grandmother Dionisia. Together, they live in a private universe of secret games and songs, where the threats of the outside world can't hurt them. But the more we're exposed to their alter-egos, the more we begin to question whether genius and insanity are really that distinct. 
Thursday 1st August
Her Eyes Open at the Omnibus Theatre at 7.30pm (Uruguay) – Writer, Raquel Diana, Translator, Sophie Stevens – Montevideo, Uruguay was voted as the literary capital of the world in 2017 and Her Eyes Open by award-winning Uruguayan author, Raquel Diana, proves why. Confronting death and mortality, the play is a love story about a woman who must face her fears by leaving the past behind her and move forward into a wistful, unknown world. Touching on illness, maternity, loss and power, perhaps her partner is the key impetus that will keep her moving.
Playing the Real at the Omnibus Theatre at 2pm – Continuing the theme of the contradictions between fictional and "real", this interactive workshop touches on the challenges authors, translators and artists face when thinking about translating multiple voices and re-awakening them. By exploring some of the works by authors in Out of the Wings, participants will considers when characters have to play a heightened version of the "real", as well as considering the challenges and sensitivities faced when a play originates from a different culture and language.
Friday 2nd August
Bad Joke at the Omnibus Theatre at 7.30pm (Catalonia) – Writer, Jordi Casanovas, Translator Tim Gutteridge – When Oscar, an aspirational newspaper journalist who always dreamed of becoming a foreign correspondent invites his old friend, Ernesto, over for the evening, one joke quickly spirals out of control and his whole life flips upside down. When Oscar's wife becomes involved, we no longer know who is playing a joke on whom and we quickly see how humour and cruelty can dramatically become one.
Tickets and full programme details at ootwfestival.com

Follow Sounds and Colours: Facebook / Twitter / Instagram / Mixcloud / Soundcloud / Bandcamp

Subscribe to the Sounds and Colours Newsletter for regular updates, news and competitions bringing the best of Latin American culture direct to your Inbox.
Share: