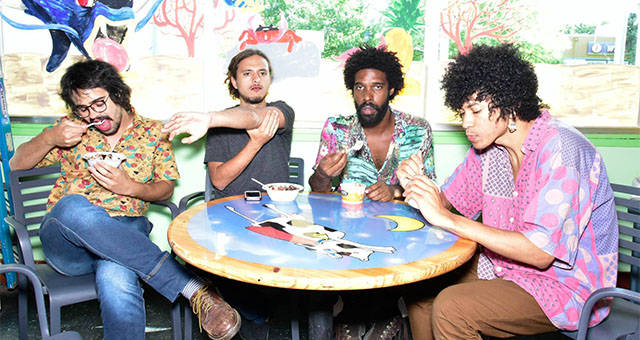 Our top picks for SXSW 2017
09 March, 2017
The SXSW Music Festival is one of the largest and most influential global music industry events of the year, taking place every March in Austin, Texas.
We're delighted to announce our picks for those lucky enough to attend this festival in what is known as the live music capital of the world!
From Brazil:
Boogarins return to North America on the heels of a Latin Grammy nomination, began playing music together as teenagers in the central Brazilian city of Goiânia – creating psychedelic pop in their parents' gardens, filtering their country's rich musical history through a very modern lens. By the time the group's home-recorded debut LP, As Plantas Que Curam (2013), was released worldwide, the band had recruited a proper rhythm section and were developing a name around Goiânia. Soon after, the group was booking regular gigs in São Paulo and across the country. Ultimately, with glowing praise from critics abroad (Chicago Tribune #9 Album of 2013) and a growing international audience, 2014 saw Boogarins circling the globe continually – headlining clubs and playing festivals from Austin to London, Paris to Madrid, New York to San Francisco, Santiago to Mexico City, playing alongside many great artists around the world.
From Colombia:
Alcolirykoz is a Latin hip-hop trio with relentless lyrics and it's own unique style inspired in 90's classic rap, Dixieland jazz, 40's boleros and swing. Hailing from Medellín, they play and fuse all of this, arranging and adding instruments to achieve this unprecedented structure that has revolutionized the Colombian hip hop scene.
Aluvión Afrobeat Pacifico make music influenced by Afro-Colombian sounds from the Colombian pacific coast. This group was born in 2010 and it was precisely during those times that a stream of Timbiquí water was deposited in Bogotá, creating an exceptional mixture between the marimba, cununos and guasá with the electronic sounds of the Colombian capital.
No strangers to Sounds and Colours, Tribu Baharú is an afro-champeta music crew whose sound has evolved from the Colombian Caribbean and is influenced by the "Pico" (sound system) culture of Barranquilla and Cartagena. Founded in 2009, Tribu Baharú has evolved to become – arguably – the most important Afro-Champeta ensemble on the current international scene.
From Mexico:
If Salvador Dali ever made a heist movie, then Mexico's Troker would have been the perfect soundtrack; hard-groove blend of jazz, funk, DJ scratching and horns from the mariachi tradition of their homeland. Their sound careens between the sublime and the dangerous, turning on a dime to switch from precise and complex to wild and free. Brewed in the land of Tequila and toured across Europe, North and South America, Troker's music is a powerful expression of contemporary Mexico.
We especially like this rendition of David Bowie's "Blackstar," which the band recorded in tribute after the late great pop star's death in January 2016.

Follow Sounds and Colours: Facebook / Twitter / Instagram / Mixcloud / Soundcloud / Bandcamp

Subscribe to the Sounds and Colours Newsletter for regular updates, news and competitions bringing the best of Latin American culture direct to your Inbox.
Share: