Santiago Days (Arriving in Chile)
|

25 January, 2011

This is the first part of a weekly/bi-weekly blog from Mark Briggs (a budding writer and regular contributor to Sounds and Colours). He will be providing regular updates on life in the Chilean capital, Santiago, where he has decided to spend the next four months.

Its high summer here, as the city heats up the people depart. Those that can, leave for some part of Chile's substantial coast line to breath fresh and cool air, neither of which are entirely abundant in Santiago right now as the mercury rises to 35 degrees over the weekend.

First impressions can be all important, but Santiago doesn't give a good first one. Wide roads full of polluting cars lead you from the airport to the centre, while cab drivers line up to take you round the houses the rest of the way. Uninspiring high-rise tower over uninteresting shops and fast food joints.

But that's not what this city is about. Perhaps it lacks in tourist charm, so important for a cities reputation, but what it lacks for the tourist, it makes up for with its residents. This is a place to live, the chic area of Providencia with its cafes and intellectual feel, and the Barrio of Bella Vista displaying the more rugged side of bohemia. The area around Bellas Artes is perfect for the city-dweller, while surrounding suburbs and Metro stations give the city a more compact feel than its six millions inhabitants would suggest.

Santiago's skyline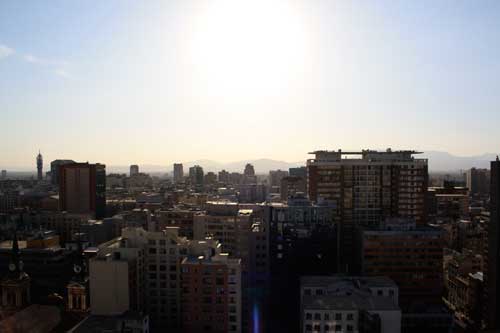 The foothills of the Andres hang like a spectra in the distance and the wind that rushes down from them takes the edge of the baking sun. Small restaurants line the roads out of the centre, sushi being a particular favourite.
Every evening, a small collection of street performers join the chess players in Plaza de Almas to entertain those passing through. Their colleagues perform at red lights to traffic with juggling, fire, and football skills.
Last weekend, my first here, I was invited to explore the coast. We went surfing, my first time. I urge those of you who haven't tried it to do so. The style and instant street cred of surfing has overshadowed the fun, relaxing, yet entirely exhausting lure of a few hours in the water. It is a lure somewhat undermined by British climatic conditions when at home, but, now free of that particular shackle, I have become a convert and intend to try my hand at it again (might even stand up long enough to beat my personal best, currently around 3 seconds.)
On the way back to Santiago, we came across an entirely Chilean phenomena, that of Miguel "Negra" Pinera. A rocker from the 70s he is famous throughout the country for his party lifestyle. When we crossed his path in a restaurant, he overheard our accents and recommended the locas, a type of seafood on offer. Then once conversation had been struck up, and drawn by the presence of a certain blonde young lady at our table, he began to invite us to come for drinks.
So we followed him through a few bars, encountering his fame as people came up to ask for photos, a group of Argentinean girls were particularly excited due to his appearance on their "Dancing with the Stars".
It was definitely one of the more surreal nights of my life.
What makes this man worth mentioning (aside from name-dropping) is because he is the brother of the President, Sebastián Pinera, a straight-edged billionaire businessman, who introduced credit cards to Chile and owns stakes in some of the country's prized assets (LAN airlines and Colo-Colo football club amount them).
Miguel Pinera with Belén Hidalgo and Sebastián Pinera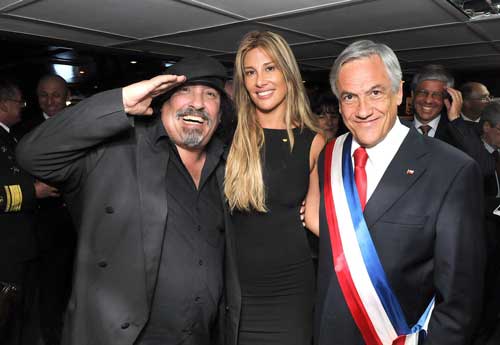 It must make for an interesting family get-together on Christmas day.
Right that about covers my first week, I'll be back soon with more updates on life in Santiago.
You can follow me and ask questions on twitter @briggsma and I hope you stay on Sounds and Colours and have a look through the site.
Ciao,
Mark

Follow Sounds and Colours: Facebook / Twitter / Instagram / Mixcloud / Soundcloud / Bandcamp

Subscribe to the Sounds and Colours Newsletter for regular updates, news and competitions bringing the best of Latin American culture direct to your Inbox.
Share: