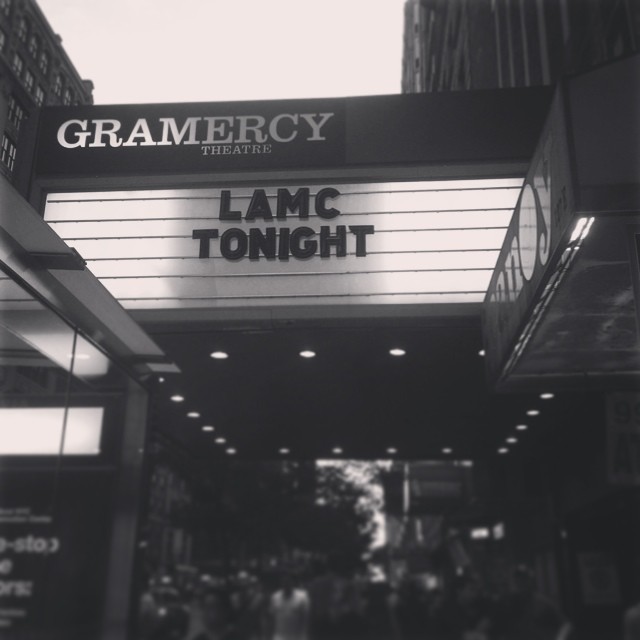 Highlights (and lowlights) of the 2014 Latin Alternative Music Conference: A Two-Sided Recap
22 July, 2014
After a week of recovery time, all of New York City is winding down from the whirlwind that was the 2014 Latin Alternative Music Conference. With many bands playing, showcases, off-LAMC shows (sort of like off-Broadway) and after parties, there was, as always, too much to see in too little time. But after sorting through the plethora of showcases, we bring you our very two-sided list of highlights and lowlights — a fun, unsupervised journey where two reporters have the rare task of giving you our opinion. Yes, you're about to read Katy Wassam and Nadia Reiman's recap of the LAMC's quinceañera.
Since there was so much to cover, we divided our picks in sections, starting in the order of the Conference itself for your reading enjoyment. We (often) agree, sometimes disagree, but we both can tell you that going to the Conference is always a blast. For those of you that missed it, there's always next year! And for those of us that disagree with us, please tell us in the comments what we missed!
The Mercury Lounge Indie Showcase Section:
Katy's picks:
(me llamo) Sebastián surprised us all at the Mercury Lounge during the LAMC's first scheduled music performance of the conference. Most of the audience was there to see the more well-known names of Sante Les Amis and El Mató a un Policía Motorizado, but when Sebastián walked up on stage by himself to open the night, he charmed us all. His little monologues, in which he self-deprecated his English (which really was fine) and asked for us to send him messages online, be they good or bad, warmed the hearts of the audience. He sung his heartfelt ballads with the sole accompaniment of his keyboard, and won the applause of the audience through his lyrics that challenge gender norms.
Nadia's picks:
Definitely agree with Katy about (me llamo) Sebastián — he had the audience eating out of the palm of his hand. It was a killer performance where he established himself as part of the indie crowd. In addition to this Chilean wunderkind, I would add Caloncho as one of my highlights. This sweet, Mexican beach music really set the summer vibe scene that the rest of the Conference had, and yes, Caloncho and friends did indeed play their big hit "Palmar", but really, the entire set was delightful. It was the one act that left me wanting more, and it seemed like a sweet palate cleanser to the more rock sounds of the night. Special mention in my book to El Mató a un Policía Motorizado, which ended up being one of my favorite discoveries at LAMC.
The After Party Section: Supercrush and NRMAL:
Katy's picks:
Radio Bushwick is a relatively new music venue in Brooklyn, and for three nights it hosted LAMC artists through Supercrush Studios and NRMAL. The Thursday night show with Puerto Rico's AJ Dávila made my list of highlights for both the band and the venue. While the venue is pretty small, the crowd was even smaller, which meant there was plenty of room to rock out to AJ Dávila's catchy garage punk. A disco ball borrowed from one of the earlier bands cast its rotating lights around the high walls of Radio Bushwick, adding to the atmosphere. This former member of Dávila 666 and his band are in their element on stage and put on a solid rock show every time.
Nadia's picks:
Give me more AJ Dávila all the time. All. The. Time. The sheer energy of Dávila is amazing, and his sound is like a more refined Wavves. It's fun, it's powerful, and just because it sounds energetic does not mean that it has no edge. I spoke to AJ about the meanings of one of his most popular hits, "2333." "That song can fool a lot of people," he said, "because you can hear it and you can think it's a love song but I have this dream about me dying on a date, 23 at the age of 33. So that's the code. The song is about me having this dream of dying on this date." If you think that's surprising, well good. AJ Dávila is not interested in being predictable. From his lyrics to his sound, he's all about challenging what you thought. "I think we have to kill that stereotype that if you are a Latino artist you have to have a tropical beat." You can for sure hear that rebellion in his work.
The Crazy-Day-With-A-Million-Shows: The Acoustic Showcase Section:
Katy's Picks:
The annual acoustic showcase at Sounds of Brazil (SOB's) is always one of my favorite LAMC events. This year, the lineup included stellar artists like Ana Tijoux, Sante Les Amis, El Mató a un Policía Motorizado, and AJ Dávila. For me, the standouts were the ones I wasn't expecting. Danay Suarez, a hip-hop/jazz musician from Cuba, captivated the audience with her voice. She asked us to take advantage of the acoustic set in order to better hear the lyrics, showing how much artistry and care she had put into writing them in the first place. But my favorite part was when she motioned to her guitarist accompaniments to stop playing (clearly improvised because they didn't realize what she meant at first) so that she could perform her song, voice alone, sans microphone. The audience fell silent to hear her voice full of conviction, like spoken word poetry. Diana Fuentes was the last to perform at SOB's, and unlike Danay, she didn't immediately cause the audience to quiet down. But once she started playing, her powerful voice (and unique kazoo playing!) induced more people to start listening.
Nadia's Picks:
OK, so the SOB's acoustic showcase is actually one of my lowlights. And this has never been so before. Although I agree with Katy about Ana Tijoux and about the AMAZING, breathtaking Danay Suarez a capella, overall, the showcase was the weakest it has been in years. The crowd was so much louder and more obnoxious than before that it made the whole experience way less enjoyable. In addition, according to the online schedule Babasónicos was going to play, but according to the LAMC guide they weren't, so there was definitely confusion amongst the crowd about what happened, not to mention that the show's closing number was not the usual heavy hitter. The beautiful Diana Fuentes with her killer voice ended the night, and although her range is one of the best I've heard, she's not at this point the type of closer that they tend to have. Before, artists like Carla Morrison have ended the evening, so it becomes a showcase bookended by well-known bands that give great rising artists a chance to hear them in a truly unique way. Not to mention that acts like Morrison have a loyal fan base that stays until the end, so the entire atmosphere is supportive, albeit a little loud. But not tonight. It made no sense structurally to place Ana Tijoux at the top of the bill, and I suspect it was done that way so that she could make her next gig, a show at Club Europa in Greenpoint.
Which brings me to the biggest issue of this year's LAMC. Never has an LAMC been so poorly scheduled. The LAMC's shows were so packed together with other shows that artists were running around, fans were thinned out, and the whole thing felt disjointed. If you wanted to, say, catch the Ana Tijoux show at Club Europa (a killer performance, more on that later) or you wanted to see Juana Molina and La Mecánica Popular with Latino USA, you were missing the Acoustic showcase or the Gramercy show, two LAMC heavy hitters. It made absolutely no sense. The result was a bunch of half-filled, half-enjoyable venues. And the acoustic showcase, which is usually not packed but well-attended, was filled with non-LAMC folks who clearly did not know why they were there.
Overall the showcase for me was a huge disappointment, and it's usually the thing I look forward to covering the most. Sante Les Amis, a phenomenal band, was completely lost and did not have their unique energy, unlike previous showcases where bands like Astro mopped the floor with their spirit and their incredible craftsmanship despite sounding radically different than when they are plugged in.
The Crazy-Day-With-A-Million-Shows Section: Gramercy and Beyond
Katy's Picks:
The annual show at the Gramercy Theatre always includes so many acts with so many different music styles that it can be hard to please the audience's tastes the whole time. This year's lineup included the rapper Milkman, the lighthearted pop of Esteman, and the garage rock of AJ Dávila. People kept coming and going from the standing room floor in order to hear the sounds they liked, and skip what they didn't. Like at SOB's, the highlight of this event for me was the presence of two amazing dance-inducing groups I wasn't expecting, The Wookies and Los Macuanos. The four members of The Wookies took the stage at 11pm in their traditional Wookie masks and immediately started pumping out electro-cumbia beats that made the crowd go wild dancing. Los Macuanos closed out the night with their ruidosón music – a fusion of electronic dance music with traditional Mexican border sounds like the accordion. While not everyone stayed to hear music coming out of a box – or iPad, in the case of Los Macuanos – I full-heartedly enjoyed the opportunity to dance to great rhythms.
Nadia's Picks:
If there ever was a time to go the dingy, kitschy, club-from-the-80s that is Club Europa, it is now, to see Ana Tijoux and Rebel Diaz bring the house down. This rapping power family was insane. They not only played "Vengo" and "Antipatriarca" amongst other great hits, but they had the entire, at-capacity dance floor rapping along to "Shock" and losing their mind when Anita spouted out the fast middle rap section. Everyone danced, everyone partied and even the usually poor sound was great. A highlight within a highlight is that Ana Tijoux's son was on the shoulders of friends and family taking photos of his undoubtedly badass mom. After Ana left, the crowd definitely thinned out, and despite the DJ's efforts, the energy was never the same. No shame though, the maracuyeah ladies and Subsuelo guys delivered and when I left at 4 AM the place was still bumping. Definitely a great concert and after party double hitter.
The Last Supper Section: Saturday at Central Park and the After Parties
Katy's Picks:
Saturday's performance by Babasónicos was the last official concert of the conference. While the band was unable to make their earlier scheduled LAMC appearances due to a late plane and sore throat, they gave it their all for the closing performance. Singer Adrián Dárgelos may be 45 years old, but he still dances easily all around the stage. My favorite part may have been his outfit: skinny black pants, a blue t-shirt, and a black tunic that looked like a weak bullet-proof vest. These legends of Argentine rock were able to play over a full hour of hits (20 songs!) from their extensive collection of albums. The crowd went wild for favorites like "Carasmático," "Putita," and "Aduana de Palabras." Walking around Summer Stage that day, you could feel the amount of Argentine pride in the audience: it felt like half the crowd was wearing a blue and white striped jersey, rooting for Babasónicos, Juana Molina, and their soccer team the next day (but let's not talk about that just now).
Luckily the music didn't stop with the official end of the LAMC shows. That Saturday night, Barbès hosted at Drom a night of "Latin Iconoclasts." I was only able to catch the last two acts, Los Crema Paraíso and Sante Les Amis, but from what I heard, Chicha Libre and M.A.K.U. Soundsystem were pretty amazing. What made this night a highlight was Sante Les Amis' performance. Maybe it was the nice venue or getting over the nerves of playing in the U.S. for the first time, but their sound was better than either of their performances at Mercury Lounge or SOB's earlier that week. With their catchy melodies and summery beats, they were one of the most fun artists to watch at the LAMC this year.
Nadia's Picks:
Definitely my favorite part of this was hearing La Santa Cecilia cover "Strawberry Fields" with Marisoul's amazing voice. But a close second was the forever young, forever classy Juana Molina. Not only is her voice the stuff that dreams are made of, but also the set was flawless and smooth. It was the perfect Saturday afternoon show. The only thing I wanted was more Juana, less Babasónicos (is it heresy to say that?). I think Babasónicos are great, I just did not care for the lack of balance of so many Babasónicos and so little everything else. But maybe I'm just the type of girl that wants Juana Molina every day.
Overall, though, I think this was not a very satisfying LAMC for me. Usually the conference brings at least two major acts I'm excited about, but this year none of the majors really thrilled me. The unofficial showcases (including the many I failed to catch) were more interesting and innovative than many of the bands officially on the bill. In addition, the best was meeting new artists and talking to them on the press room floor. I found out that Daniel de Jesus, a young cellist, felt very much like the only Latino in his classical music conservatory. I talked to Rosa Diaz and heard about her new album inspired by Bukowski. El Mató a un Policía Motorizado talked to me about how they came up with the long name (blame television). And AJ Dávila drank a beer hidden in a coffee cup during his interview. These are the elements of the LAMC that are always the true gems, and the reason to be excited year after year, no matter what.

Follow Sounds and Colours: Facebook / Twitter / Instagram / Mixcloud / Soundcloud / Bandcamp

Subscribe to the Sounds and Colours Newsletter for regular updates, news and competitions bringing the best of Latin American culture direct to your Inbox.
Share: