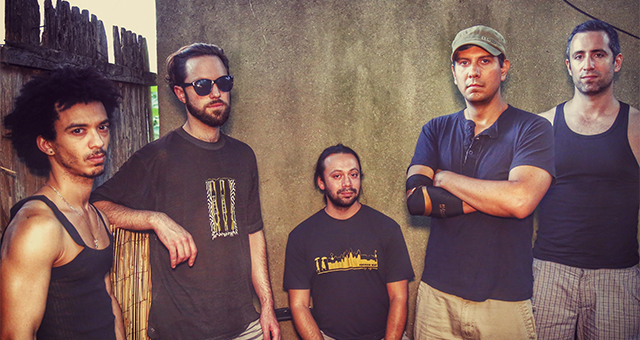 Meet NYC's Descarrilao: A 'Rock Band That Plays Salsa'
05 April, 2018
How about some rock with your salsa? In the case of Descarrilao (which translates to 'off the rails'), the rock isn't a side dish: it's the main staple. After all, the band refer to themselves as "los delincuentes de la salsa (the delinquents of salsa)," and count Queen and Jimi Hendrix among their influences.
The New York City based quartet, made up of Victor Manuel Rendon (piano), Jose Candelaria (vocals), Leo Mintek (guitar) and Greg Stein (congas), is set to celebrate the release of their first album, Grupo Descarrilao, with a performance at Manhattan's Solas Bar in the East Village on the 11th of April (details).
We had a chat with Candelaria, who is the lead songwriter, Rendon, the composer and band leader, and Mintek, about about their style of 'New York City salsa dura,' which includes classics and originals that contain fusions with rock, bachata, cumbia, and more.
Sounds and Colours: Congrats on the new album. We've seen you guys perform covers that have the entire room dancing at venues like Bar Chord in Brooklyn. But this album has four original songs and four "reimagined" covers. What was the songwriting process like?
Jose Candelaria: We are very excited to present the originals. We try to collaborate as a band as often as possible. Some of the writing and development of the songs is done as a group, other times separately.  For instance, for "La Trampa," collaborator Joshua Lewis wrote lyrics and Víctor Rendon wrote the music, then brought it to the band. From there we made adjustments and changes, adding harmonies, guitar melodies, etc. Victor has also been inspired by his recent expeditions to Mexico, where Joshua currently lives.
There are definitely some true stories in our songs. "La Trampa" is based on a real life situation about a girl Joshua knew. All of the original songs have a bit of real life to them and a bit of fiction.
"Inocente" began as a group jam session. My intention was to write a song from the point of view of Hector Lavoe if he was still around: "What would Hector say?" From there, it grew into something more. There are some personal references about my own story being born in the Dominican Republic and coming to the United States at a young age. Being uprooted and relocating to a new country can have some traumatic effects on a young child. With whats happening now in America I like to think of the song as a "Dreamers' Anthem," because so many dreamers are suffering the consequences of choices that were not theirs to make. (Ed note: Descarrilao released a song called "Bully" as an ode to Donald Trump last October.)
S&C: We can't help but notice the prominence of the guitar, especially on the track, "Cerebro Gusano/Maggot Brain." Obviously the guitar (acoustic, classic, and electric) has been part of Latin music such as salsa and merengue, but it is very prominent on this album. What was the thinking behind that?
Victor M. Rendon: The guitar is prominent because we love a wide range of rock, blues, and jazz music. Combining that with Afro-Latin rhythms just seemed innovative and new and a chance to experiment and push the boundaries of both genres, or at least make our mark. It's why we tag as Latin Alternative because our music is too different from modern salsa and latin jazz music to be classified as such. We are our own brand of salsa and rock music. We also want to appeal to a broader audience outside of the salsa community.
Jose Candelaria: I like to say we are a rock band that plays Salsa. So the electric guitar is essential to our sound and we are lucky to have a beast like Leo [Mintek] to fill that role.
Leo Mintek: People always say it sounds like Santana, but really I'm trying to sound like Jimi Hendrix if he played salsa trombone.
S&C: Speaking of comparisons, Jose, you sound great. Who does your voice get compared to by folks when you're out performing?
Jose Candelaria: Prince, Freddy Mercury, Marc Anthony, Sammy Davis Jr.
S&C: Who are your musical influences when working in this project and/or in general?
Victor M. Rendon: Tito Puente, Mongo Santamaria, Papa Lucca, Bebo Valdes, Ruben Gonzales, Joe Arroyo, Eddie and Charlie Palmieri, Cal Tjader, The Fania All Stars, Irakere, Los Van Van… My father (Victor Rendon Sr.) was a big influence because he's a professional Latin Jazz drummer. He taught me percussion and piano.  He gave me my first vinyls of Jimi Hendrix, Bob Marley, Blood Sweat & Tears, Santana, Deep Purple, Led Zeppelin, John Coltrane, Lee Morgan, and Horace Silver, as well as numerous other old records of various genres I hold on to.
Jose Candelaria: During this recording I was watching a lot of YouTube videos of Queen in the studio and other rock bands for inspiration.
Leo Mintek: For this recording i was listening to a lot of Fania, some 90's latin ska, and latin jazz records. We really made an effort to keep a 'live' sound, not too much overdubbing, allowing 'mistakes' to stay on the record.  We try to prioritize maximum mojo over perfection, like they used to do back in the day before digital recording. Also we are called Descarrilao for a reason, sometimes we go off the rails!
…
Listen to "La Trampa" by Grupo Descarillao below, and grab their album on April 11 at various online outlets, such as Bandcamp, iTunes and Spotify.
(Album art by Victor Manuel Rendon)

Follow Sounds and Colours: Facebook / Twitter / Instagram / Mixcloud / Soundcloud / Bandcamp

Subscribe to the Sounds and Colours Newsletter for regular updates, news and competitions bringing the best of Latin American culture direct to your Inbox.
Share: