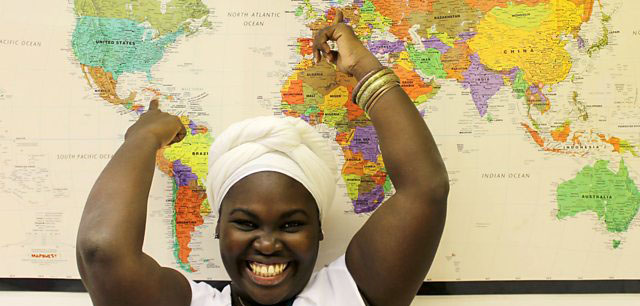 New Music To Prepare For Festival Season
26 February, 2016
We are fast approaching festival season. Austin's South by Southwest® (SXSW®) is around the corner, as are Miami's electronic music weeks, and the Latin Alternative Music Conference (LAMC) in New York City has early registration all set to go for their 17th anniversary edition this July.
And, fresh on the heels of the United States agreeing to commercial flights to Cuba after a 53-year ban, Afro-Latino Festival of New York, also in July, is previewing its festival by bringing some new sounds of Cuba to the Big Apple in mid-March. As such, we wanted to share some music.
Though all the following artists are not all necessarily appearing in any of the aforementioned festivals, we thought it would be fun to share some of the Latin American or Latin American-influenced tunes we've been listening to as of late.
Cuba:
Daymé Arocena is the featured performer at Afro-Latino NYC's spring preview at Subrosa on the 21st through the 23d of March. A native of Havana's Diez de Octubre neighborhood, the 23-year-old Arocena is referred to by many as contemporary Cuba's "jazz revelation."
With a diverse vocal repertoire that includes scatting, Yoruban chants, guttural whispers and her signature deep laugh, the 23-year-old Arocena has been hailed as one of the most exciting artists in Afro-Cuban music today. Her debut project was named by NPR as one of the 50 best albums of the year, and famed BBC radio host and globetrotter Giles Peterson called her a "total knockout." And, of course, we gushed over the singer last year. (Read our interview with her here.)
We're looking forward to her performance in New York, where she'll be joined by Cuba's DJ BJoyce (grab tickets  here), but Northeasterners can also catch her in Philadelphia on the 24th of March. Europe gets its turn as she tours with Giles Peterson in April.
Learn what makes Arocena a legend in the making by watching the video below.
Colombia / Argentina: 
Lulacruza are an electronic folk duo operating at the "junction of the modern and the ancient, blending shamanic and ritualistic influences with folk and electronic music." Veteran readers of Sounds and Colours will remember the South American travel diary they wrote for us in 2011.
Consisting of Alejandra Ortiz from Colombia and Luis Maurette of Argentina, they'll perform at Joe's Pub in NYC on Saturday, 12th of March.
Lulacruza released their latest album, Orcas, last April. The record is inspired by the sounds of nature, with lyrics rooted in South American ritual and folklore. We're loving Orcas Remixed Vol. 2, in particular this track, "Comandante," remixed by ZZK Record's King Coya.
Puerto Rico:
If you're a fan of indie pop similar to Chile's Alex Anwandter or Denver, there's a good chance you'll enjoy Puerto Rico's Jorge Chafey. This pop star from "la isla del encanto" has a disco funk vibe to him, and his new album, Carpe Diem, is available for streaming on Soundcloud. We're hoping he makes his way to the mainland sometime soon. Listen to the lead single, "Te Azota," which translates to "it whips [you]," below.
New York City:
New York City's Karikatura puts out funky pop rock very much influenced by cumbia and other Latin music sounds. As they set off on a winter tour (dates, including SXSW), they've released a cover of a 1980s hit in the U.K., "Ghost Town."
The cover of the 1981 hit by The Specials is "just as relevant in the United States today as it was in Margaret Thatcher's Britain in 1981," the band says. We especially love this lyric by rapper Akil B. Strange, a guest on the track:
"Brotherman, brotherman, never trust the government,
Especially if this next election we get a Republican
It's gonna be the Ronald Reagan 80's all over again
Stack up your guns and gold, get ready to get it in"
Uproot Andy:
Uproot Andy remixes the classic Fania salsa 'Eso Se Baila Asi" by Willie Colon & Hector Lavoe by turning it into a futuristic footwork banger, with elements of trap, ghetto tech, Jersey club and juke. We're sure Andy will play during SXSW. You best bet is to follow him on Facebook.
Download this free remix via Fania's Soundcloud below.
Colombia:
Bogotá's El Freaky is bound for Austin's SXSW. The global bass collective, which has been rocking parties since 2013, had an action packed 2015 with over 60 shows across Colombia and the rest of Latin America, the United States, and Africa. This year will see their second studio album. In the meantime, stream "Bad Boys," featuring Jamaica's Mr. Lexx, remixed by Frank el Médico.

Follow Sounds and Colours: Facebook / Twitter / Instagram / Mixcloud / Soundcloud / Bandcamp

Subscribe to the Sounds and Colours Newsletter for regular updates, news and competitions bringing the best of Latin American culture direct to your Inbox.
Share: