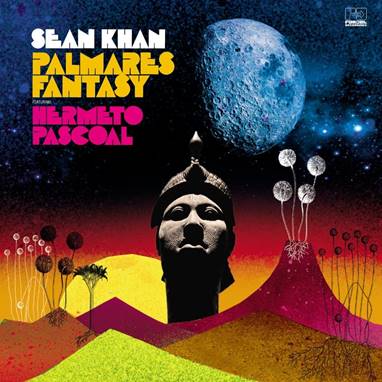 Sean Khan Announces New Album With Eccentric Brazilian Composer Hermeto Pascoal
09 March, 2018
London-based jazz multi-instrumentalist, Sean Khan, returns to Far Out Recordings for his third solo LP, this time in collaboration with prolific Brazilian composer, Hermeto Pascoal. Palmares Fantasy was recorded in Rio de Janeiro in 2016 as part of an intensive eight-week excursion to South America for Far Out boss and producer, Joe Davis, and features Azymuth's Ivan 'Mamao' Conti on drums, Paulo Russo on bass and Jim Mullen on guitar as well as vocals from Cinematic Orchestra's Heidi Vogel and nu-bossa voice Sabrina Malheiros.
Frustrated with the exclusivity of London's jazz scene, Sean Khan emerged out of West London's broken-beat movement in the '90s as leader of the cult soul/jazz group SK Radicals. A self-taught musician, having never been able to afford his original dream of studying at Berklee, and having been turned away from Guildhall School of Music for being "too raw", Khan owes his specific sense of rhythm and experimentation to his involvement in the broken-beat scene. Despite his disillusionment with the jazz world, Khan's love for music has never faltered and this work with experimental Brazilian composer Hermeto Pascoal is a dream collaboration.
Hermeto Pascoal is one of Brazil's most eccentric and treasured composers and multi-instrumentalists. Growing up in a remote area of north-eastern Brazil, and unable to work in the fields with the rest of his family due to being albino, Pascoal spent his days practising the accordion, a skill he learnt from his father. Fast-forward a few years and Miles Davis dubbed him "the most impressive musician in the world" after gaining international recognition for featuring on and composing three tracks on Davis' 1971 album Live-Evil. While the Brazilian is a master pianist, accordionist and flautist, he views the number of instruments that he can play as infinite. In the eyes of the 81-year-old anything can be turned into an instrument. Famously, a 1977 album of his features a pig.
Palmares Fantasy ranges from frenetic moments, such as the title track which features wild, improvised vocals, Rhodes and whistles from Pascoal, to delicate pieces where Khan's harmonic layering creates lush soundscapes of ideas. Namely, the opening track, "Moment of Collapse", is a poetic study on the uncertainties of modern day Western civilisation given voice by the beautiful vocals of Heidi Vogel. The album also contains two covers, the first being one of Pascoal's own, "Montreux", on which he plays solos on a teapot and a pint of water. The other is a soulful jazz-funk take on Milton Nascimento & Lo Borges' MPB classic, "Tudo Que Você Podia Ser", with guest vocals from Brazil's Sabrina Malheiros.
The album takes its name from Palmares, the fugitive community of escaped slaves that existed during the 1600s in Brazil's north-east until its suppression in 1694. Palmares resisted the exploitation of South America by the Spanish and Portuguese crowns for almost a century and Khan notes with fascination that while mostly made up of escaped African slaves, many deserter conquistadors joined the settlement and women had equal rights in the community. Inspired by this community Khan's music aspires to inclusivity and equality and presents a utopian message for the world.
Sean Khan featuring Hermeto Pascoal's Palmares Fantasy will be released via Far Out Recordings on vinyl, CD and digitally on the May 11th 2018.
Listen to the title track below:
http://www.youtube.com/watch?v=hjYN8id9ZJY

Follow Sounds and Colours: Facebook / Twitter / Instagram / Mixcloud / Soundcloud / Bandcamp

Subscribe to the Sounds and Colours Newsletter for regular updates, news and competitions bringing the best of Latin American culture direct to your Inbox.
Share: