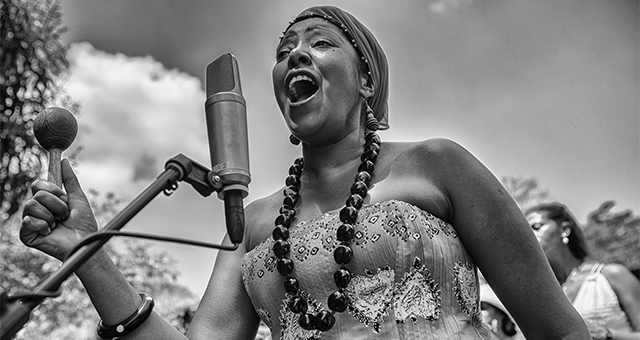 Show Preview: Betsayda Machado & La Parranda El Clavo
08 March, 2018
Here's how our editor Russ Slater described Betsayda Machado & La Parranda el Clavo's Loe Loa (Rural Recordings Under the Mango Tree), as one of our picks for "Best Albums" at the end of 2017:
"This was a complete revelation when I first heard it. Normally folkloric recordings can be a little polite, well-recorded but lacking the vitality of when you hear the music in its natural environment. Loé Loá (Rural Recordings Under The Mango Tree) –which was recorded under a mango tree, shows us all how to capture the passion of simple rural music. Betsayda Machado & Parranda El Clavo were completely unknown before this album came along, but they are a tremendous group and one of the few exponents of Venezuela's Afro tambores music to be getting a global profile. With just drums, percussion and constantly-changing lead vocals this is blistering stuff, full of energy with pounding rhythms and with vocals that seem to lift you off the ground. This really has set a high benchmark for the recording of folk music and is up there with the classic Afro-Latin recordings of Totó La Momposina on Real World."
We're thrilled that Machado and her tight-knit group are touring the United States. Soon, they'll play New York City's Elebash Hall at the CUNY Graduate Center in Manhattan on Friday, the 16th of March, at 7 p.m. We talked to the Venezuelan parranda songstress about how this band that has been together for 30 years keeps the music coming:
Sounds and Colours: You've been together for three decades and you're not a small band. How do you make it work?
Betsayda Machado: We all came from the same area, the town El Clavo, where we were all raised. We grew up together as siblings so it's like we've always lived together. We are a family group. In it, are: Asterio Betancourt, one of  the founders, Blanca Castillo and Youse Cardozo, who are mother and son, the brothers Gomez–Ote, Nelson and Oreo, and then, Nereida and I are the Machado sisters, so it's all in the family. This all started long ago when we'd go carousing from house to house in the village to celebrate the 1st of January and we have remained doing so. It is for this reason that we have stayed together so long, celebrating  the new year and our roots.
S &C: Are all the songs that you play your version of well-known parranda songs, or are some of the songs original?
BM: We have a little of everything. Some are "work songs" [from African ancestors brought to the region to work its rich cocoa fields] that are folkloric and have years of tradition. The songs sang with the round drum, or  "culo e puya," like "Mayoral," which speaks of slavery and abuse of black people, we learned from our parents and they from theirs, they have a long tradition. We also have parrandas and songs written by our group members that are about what it's like living in Venezuela … the food and supply shortages, the hunger, the loose underworld, or as we say in Venezuela the "thugs" and all that comes withthe political and social situation that we are living over there.
S&C: Who are your musical influences?
BM: Definitely my father. He was a musician and a very renowned trumpeter in the region. And my mother is not far behind, she is very refined, only she never played music professionally, only around the home. I like the [Cuban band] Quinteto Criollo and [Venezuelan mezzo-soprano] Morella Muñoz. I like a little of everything, salsa and even some American groups. I'm fascinated by Cuba's Omara Portuondo and of course Celia Cruz. Lately I've been singing boleros and I have been listening more to Puerto Rican great Bobby Capó and other big boleristas. I have a good diet of a lot of good music but I like singing music from my roots, the Afro-Venezuelan music I learned from my parents and teachers from the town, who passed on our tradition and folklore.
S&C: It seems that not a week goes by without news of the situation in Venezuela. For those who have never heard your music, what do you want them to take away from the situation in Venezuela?
BM: The situation in Venezuela is rather complicated. We are experiencing shortages, famine, crime and it's all unleashed many problems that affect us strongly. Our songs reflect our experiences. But we also have many jocular and celebratory pieces, as that's what we do best … party!
Watch Machado & La Parranda El Clavo perform at NPR headquarters below. And catch the band's Venezuelan Afro-Soul music on Friday, the 16th of March, at CUNY's Elebash Hall (tickets). Additional dates and venues here.


Follow Sounds and Colours: Facebook / Twitter / Instagram / Mixcloud / Soundcloud / Bandcamp

Subscribe to the Sounds and Colours Newsletter for regular updates, news and competitions bringing the best of Latin American culture direct to your Inbox.
Share: