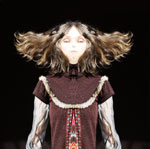 Juana Molina's First U.S. Tour With Full Band, February and March 2009
19 April, 2010
"The sounds …have few edges; they're rounded and melted like chocolate left in a summer sun. Each song feels as if it could go on forever, or quietly vanish into the mist."—The New York Times
"The [former] Argentinean TV actress emits powerful hallucinogenic vibes, creating a slippery soundtrack for the subconscious."—Spin
"Molina pulls off the most out-there material with melodies nearly as accessible as conventional pop."—Rolling Stone

The world has caught up with Juana Molina with her latest album, Un Día (Domino). The pop landscape has shifted to create a new context, where the joyous pop elements of her music make immediate sense. A spectrum of artists from MIA to Bjork to Konono No.1 have torn a fissure between 'World' and 'Pop,' and encouraged us to open our ears wide enough that Juana's hypnotic music can't help but beguile. And that is what she will do on her US tour, February 9 through March 1, 2009. While Molina's past tours have included only her and a keyboard player at most, this will be her first U.S. tour with a full band, including bass player and drummer.
It makes perfect sense that last year Molina toured with Feist, one of a growing wave of artists whose music is recorded in unconventional ways, who take maverick liberties with the received wisdoms of songwriting and song structure, and yet still compose music that is compelling, accessible, addictive, and irresistibly, strangely 'pop.' And while the globe influences Molina's work, drawing from a well much wider than the simple western pop tradition, she does not rest easily in the "World Music" section of your mind.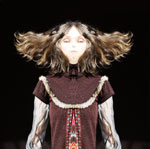 Un Día is a hypnotic record: restless, alive with melodies that surface imperceptibly before burrowing into your brain, never to leave. It's a record informed by an ever shifting and polymorphous sense of groove, rhythms writhing over and inside each other, played out on wood and cymbal and bombo legüero (a deep, typical Argentinean drum), and woven from electronic glitches.
"I noticed rhythm on my previous records was tacit, there but concealed," explains Molina. "For this record, I aimed to make what was obvious to me obvious to others, to bring it to the front, like a hidden layer in Photoshop."
This approach informs more than just Un Día's rhythms. These songs are bright and playful; for all their seeming complexity, the melodies and harmonies of tracks like '¿Quien? (Suite)' lock into place instantly, the gentle and trancelike conversation between coos and sighs and handclaps and murmurs building to nagging, chiming hooks and refrains. And while she has experimented with Ambient and Electronic music—and while those experiments still indelibly colour her approach—Un Día is a warmly human record, Molina's voice played to the foreground, gliding dreamily through the tangle tentative rhythm on the blissful eddy of 'No Llama,' sighing urgently along with the spectral guitars and keyboards of 'Los Hongos De Marosa.'
This is adventurous, magical music, taking bold steps into some unknown, but forever beckoning us, encouraging us to follow. "The songs are more abstract, with fewer lyrics, less literal imagery," Molina offers. Her intonation on the album's eponymous opening track speaks volumes: "Un día voy a cantar las canciones sin letra y cada uno podrá imaginar si hablo de amor, de desilusión, banalidades o sobre platón." (Or, in English) "One day I will sing the songs with no lyrics and everyone can imagine for themselves if it's about love, disappointment, banalities or about Plato."
For the uninitiated, Juana Molina grew up in Argentina, and was exiled to Paris with her family at the age of 12. Her father is the coolest of cool old school Tango singers and her mother an actress. Juana herself spent many years as a comedic TV star in South America but made a complete break with acting at the height of her career to return to music (a move that was met with nothing short of hostility back home). Since releasing her first album, Juana has won praise from all corners. She counts David Byrne, NPR, and The New York Times among her many supporters. She is adored by a loyal fan base drawn by a sound that is like no other.
Juana Molina's music contains multitudes. Come be seduced…

Follow Sounds and Colours: Facebook / Twitter / Instagram / Mixcloud / Soundcloud / Bandcamp

Subscribe to the Sounds and Colours Newsletter for regular updates, news and competitions bringing the best of Latin American culture direct to your Inbox.
Share: