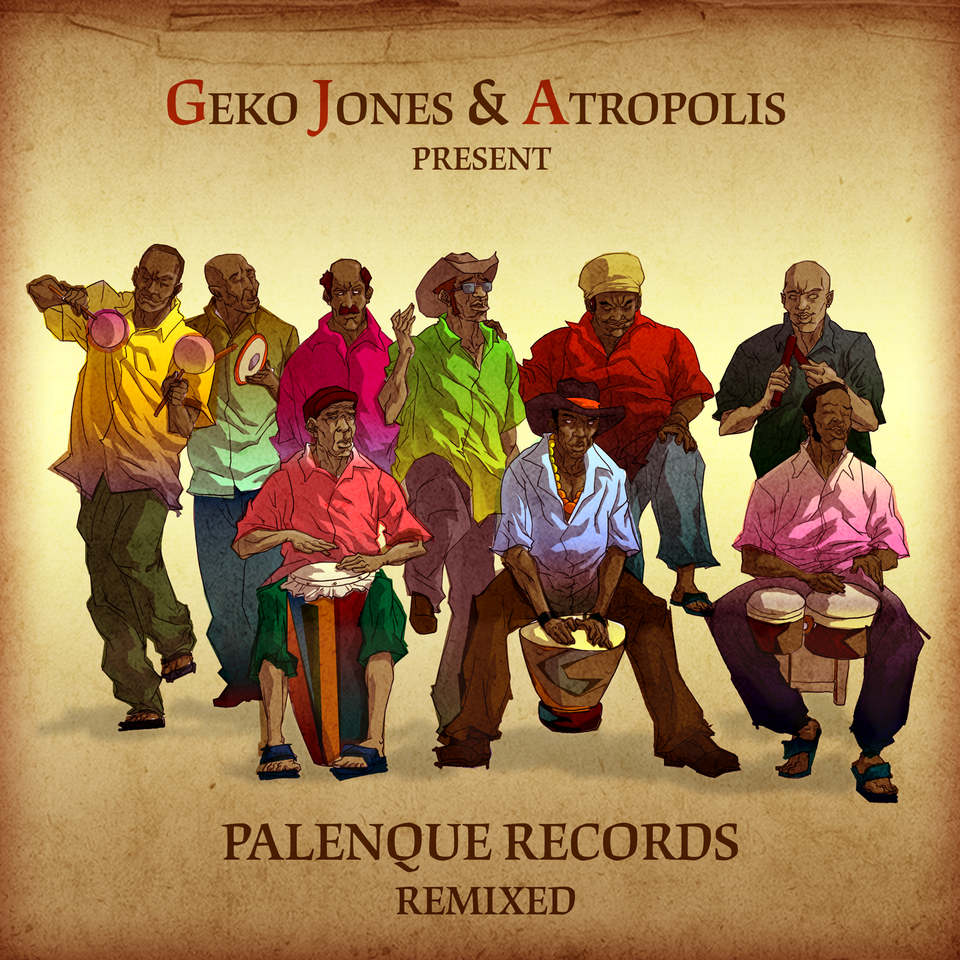 Geko Jones and Atropolis Remix Palenque Records + Uproot Andy Releases New EP
18 June, 2013
Do Uproot Andy and Geko Jones ever sleep?
In between DJing gigs across the United States and abroad, hosting their highly popular Que Bajo? tropical parties in New York City, starting a new record label of the same name, and battling other world-class DJs in a highly publicized competition hosted by Red Bull, these two somehow found the time to release new music. Is anyone else exhausted (or secretly wanting to be them) while thinking about it? Luckily, all we have to do is sit back and enjoy as their hard work is our gain.
We'll begin with a new compilation curated by Geko Jones and Atropolis (real name: Adam Partridge) for the Dutty Artz collective and record label they are a part of.
"Geko Jones and Atropolis Present: Palenque Remixed," is a joint venture between Palenque Records and Dutty Artz that takes Afro-Colombian roots music from San Basilio de Palenque and re-imagines it in the hands of a host of global remixers, such as "Chief Boima" Tucker, Adam "Atropolis" Partridge, Aaron "Reaganomics" Cantor, and Charlie "Captain Planet" Wilder, to name a few.
Jones tells us how the project, which includes remixes of Palenqueros like Sexteto Tabala, Batata, Son Palenque and more, came about:
"It's really something that has grown organically from the sound we've cultivated at Que Bajo and it's something I'm proud of deep down in my costeño soul," he said. "I'm happy to have been a part of the process in walking this through to completion because, for me, watching all these remixes go up without permission or proper write ups on Soundcloud really does no service to the old timers that inspired us. The hope is to out some wind in the sails of these artists and put their music in front of new audience."
Read more about San Basilio del Palenque and Palenque Records on the Dutty Artz blog. Listen to the So Shifty Remix of Batata y Su Rumba Palenquera's "Macaco Mata El Toro" below:
[soundcloud url="http://api.soundcloud.com/tracks/97346342″ params="" width=" 100%" height="166″ iframe="true" /]
If you're in the New York City area, head to a special edition of Que Bajo as they celebrate the release of Palenque Records Remixed at Tammany Hall. The party features most of the DJs/producers named above, including Thor "Thornato" Partridge, who is also featured on this all-star project. Then score the rest of the compilation on June 25 at digital retailers such as iTunes and Amazon. Here's a little trailer for the release:
The other half of Que Bajo keeps churning out the goods as well. Uproot Andy, the Canadian-born, honorary Colombian by-so-many-associations DJ/Producer, released an hourlong mixtape called "Worldwide Ting" in May, and now an EP featuring some of the key tracks from that mix is Que Bajo? records' first official release.
Uproot Andy's Worldwide Ting Vol. 1, is a five-song EP of club ready remixes — five different musical styles from five different countries, all re-imagined with that special Uproot Andy touch.
It features: "Homenaje a Justino" by Grupo Socavon, a classic currulao from the marimba ensemble from the Pacific coast region of Colombia; "Mangala Special" by Kabaka International Guitar Band, a highlife from Nigeria; "Sada Vasda Rahe Punjab" by Mahendra Kapooris, which is pre-bhangra folk music from the Panjab region of India; "Lamento de un Guajiro," a New York salsa classic from Fania All Stars; and, "Luna Negra" by Los Cojolites, a son jarocho from Vera Cruz, Mexico.
Listen to my favorite track of the bunch, Mangala Special, below, and head over to QueBajo.com for the rest.
[soundcloud url="http://api.soundcloud.com/tracks/96607702″ params="" width=" 100%" height="166″ iframe="true" /]

Follow Sounds and Colours: Facebook / Twitter / Instagram / Mixcloud / Soundcloud / Bandcamp

Subscribe to the Sounds and Colours Newsletter for regular updates, news and competitions bringing the best of Latin American culture direct to your Inbox.
Share: