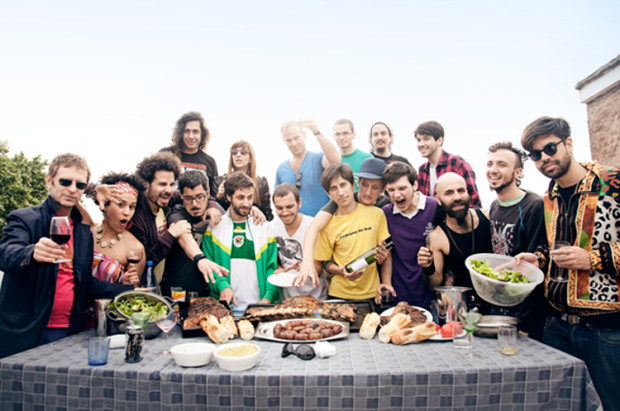 Help ZZK Records Keep On Releasing Great New South American Music
20 June, 2015
Let's go back about seven years. Chances are the first time you heard the term 'electro-cumbia' it was in relation to a song released by ZZK Records. In 2009 the genre got hot for a New York minute with Latinophiles and urban alt Latinos worldwide. Buoyed by a raft of alt-radio DJs and ad agency music supervisors, it seemed like maybe electro-cumbia, and its related musical offshoots, was going to be the next big thing. Finally, someone was making Latin electronic fusion music that wasn't 'lounge' or 'downtempo' and didn't just fade into the organic agave-syrup-coated musical backdrop of every Starbucks everywhere.
But then the musical needle moved on to moombahton, or whatever the culture-consuming 'tastemakers' declared was the next frontier of alt-Latino club and electronic music. No disrespect, I love moombahton's batshit crazy synth lines and its percussive dancehall-meets-dembow-meets-house beats are a welcome departure from the straight 4/4 house beats that dominate much of EDM; its creators deserve heavy praise. But one started to get the sense that these exciting new genres of Latin club music were getting used by the digerati in the same way that so many other sub-genres of electronic music historically had been: party fodder for a minute, name-dropped by people in the know, and then passed over by the ADHD generation for the next big – or at least medium sized – musical 'it' genre.
Meanwhile, ZZK kept on going, through the social media trending cycle, releasing a steady stream of slow and mid-tempo burners from artists such as El Remolón, Chancha Via Circuito, Villa Diamante, Douster, Fauna, Animal Chuki, Frikstailers, King Coya, La Yegros and, more recently, groundbreaking artists like Nicola Cruz, El Buho and Barrio Lindo. This is not EDM. This is not formulaica. It is music created by people who creatively and successfully push and blur the boundaries in Latin American folk and electronic music. And as one can safely assume, this is not music that is is making anyone rich. To that end, ZZK has decided to crowd-fund their label with an Indiegogo campaign to help keep their amazing catalogue of artists and releases visible and sustainable in a digital music industry with a legendary inability to focus on anything for more than a few months. They are very close to reaching their funding goal of $10,000, which, if you know anything about publishing and promoting music, is actually a very modest one. I would be very surprised if they don't hit their goal and they're 'just' about there [though, it should also be said that any money made over the goal will still go to much good use in helping fuel this modern Latin American music institution]. With a small donation you and a few of your friends could be the ones who make this funding goal a reality.
So if you've ever listened to or bought some of ZZK's music or seen some of their artists on tour, please consider donating. Labels like ZZK are very rare in this world and deserve a fighting chance at staying alive in a world where electronic music increasingly seems to made by robots trying their hardest to overload your brain's auditory cortex until you 'drop' into submission. ZZK is not doing that. They are making an eclectic and rhythmically complex fusion of musical styles that defy easy categorization and will be seen many years from now as a vital contribution to the history of Latin electronic music in the early 21st century.
To donate to ZZK Records' campaign just go to indiegogo.com/projects/new-zzk-artists-great-zzk-music-in-2015/

Follow Sounds and Colours: Facebook / Twitter / Instagram / Mixcloud / Soundcloud / Bandcamp

Subscribe to the Sounds and Colours Newsletter for regular updates, news and competitions bringing the best of Latin American culture direct to your Inbox.
Share: