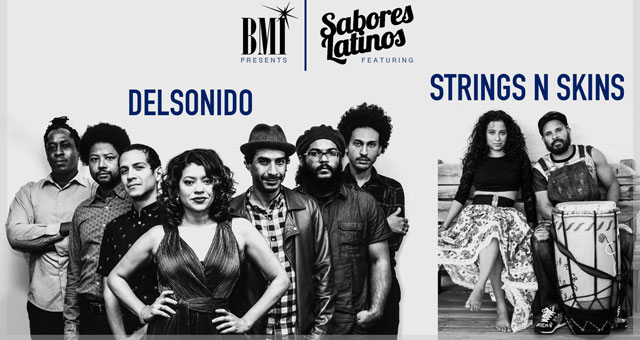 Latinx Artists to See at globalFEST & APAP in NYC
02 January, 2019
New year, new opportunity to watch some of the most exciting Latinx (or Alt-Latin; remember that term?) acts thanks to globalFEST and APAP, the annual gathering of the performing arts presenting industry and the annual members conference of the Association of Performing Arts Professionals.
3 Jan / APAP showcase: Delsonido & Strings N Skins at Rockwood Hall
Music rights management organization BMI is hosting the Sabores Latinos Showcase at Rockwood Music Hall's Stage 2 in New York City's Lower East Side on Thursday, the 3rd of January. The intimate showcase, with free admission, is designed to feature new emerging talent from BMI's Latin affiliation.
Sounds and Colours is well familiar with the two featured bands, which includes Delsonido, an outfit created Stateside by Colombian-born Elkin Pautt and Ivan Garizabalo in 2014. The band has a new lead singer, Mariella Price, a soulful and charismatic vocalist who also sings with Spanglish Fly, and is an award-winning songwriter (Antibalas, Nickodemus, Joe Bataan), and new musicians, trombonist Jason Disu (who has worked as a sessions player with LCD Soundsystem, David Byrne, Father John Misty, Holy Ghost, Macklemore and Ryan Lewis), trumpet player Carter Yazutake (Underground System, Midnight Magic, Love This Giant, Macklemore, Bonobo, Laura Izibor), bass player Louis de Mieulle (Lulu Gainsbourg, Casimir Liberski), and Sebastian "C-bass" Chiriboga (Annie Lennox, Willie Nelson).
The other band on the bill, whose latest music video we highlighted in August 2018, was also founded in Brooklyn in 2014. Strings N Skins is an ensemble centered around Haitian vocalist/percussionist Okai Musik and Latin GRAMMY-award winning Colombian vocalist/violinist/dancer Luisa Bastidas. Together, their rhythmic, high-energy songs weave elements of Caribbean, Latin and African music that are reverent of the band's rich cultural heritage and globally inclusive, with the overall aim being to unite people on the dance floor.
5 Jan / Mariachi Flor de Toloache, Antonio Sanchez & Making Movies at the Highline Ballroom
The Highline Ballroom is going to experience different Latin sounds on the 5th of January. Latin Grammy winner Flor de Toloache, NYC's first and only all­-women mariachi group, which performs mostly as a four-piece, will take the stage to perform their take of centuries old mariachi with bursts of a modern twist.
Also taking the stage will be Latin-Grammy winner drummer and composer Antonio Sánchez, who will perform from his most personal work to date, Bad Hombre. Born and raised in Mexico City, Sánchez is one of the most sought after drummers in the international jazz scene. He also composed the original film score for "Birdman" (Fox Searchlight), and the television series, Get Shorty, which is streaming on Netflix.
"Bad Hombre is an experimental project in that it's a complete departure from anything I've ever done in the past as a drummer, composer, producer and engineer," Sánchez says. "I didn't have a blueprint; it was all new to me. It was a steep, stressful, intriguing, and an amazingly fun learning curve.
Openers Making Movies (who will also play an acoustic set at the "Show our Folk" APAP showcase at Connolly's Pub on the 6th of January) continue to ride their wave of constantly making music and inspiring others to do so, whether its running their music camp for underserved young people in Kansas City, or chit-chatting about music into the morning with Panamanian great, Rubén Blades.
6th Jan / Globalfest: Combo Chimbita and Orquesta Akokán
Cuban powerhouse supergroup Orquesta Akokán has had quite the year one. The 16-piece ensemble are Grammy nominees for "Best Tropical Latin Album" and they'll perform a set of Cuba's classic mambo at one of our favorite annual NYC music events: globalFEST, which, this year, will be held at the legendary Copacabana.
Put together by New York producer Jacob Plasse with vocalist José "Pepito" Gómez, the ensemble recorded that Grammy winning self-titles record in Havana's famous Areito Studio 101 at the state-run EGREM recording complex, where legends like Celia Cruz, Benny Moré and Frank Sinatra recorded since the 1940s. Orquesta Akokán takes its name from the Yoruba word meaning "from the heart."
Colombia/NYC's Combo Chimbita, who recently signed with ANTI- records, will close out globalFEST at the Studio stage, tell us they've recorded and album and hope to see its release this spring.
The preview single for that forthcoming album, "Testigo" (stream it here) is five-minutes of passion and, as anyone who has ever seen Combo in concert knows, it's the norm for the live sets. Expect fireworks.
We're also excited to check out Magos Herrera for the first time. The Mexican-born singer sings in Spanish, English and Portuguese, to make for some beautiful Latin-American jazz. There will also be some fun afrofuturist global bass by Gato Preto (Mozambique/Ghana/Senegal/Germany).

Follow Sounds and Colours: Facebook / Twitter / Instagram / Mixcloud / Soundcloud / Bandcamp

Subscribe to the Sounds and Colours Newsletter for regular updates, news and competitions bringing the best of Latin American culture direct to your Inbox.
Share: