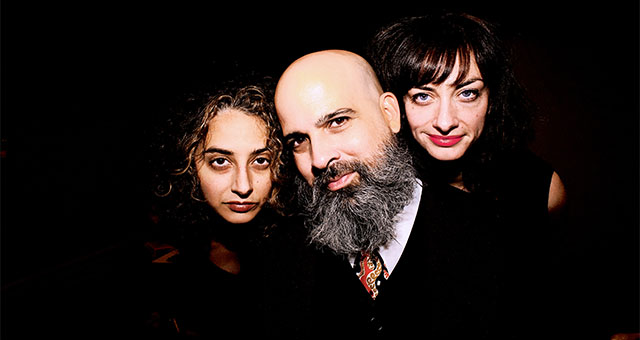 Miramar's Evocative Boleros Will Make You Sit With Your Feelings
27 January, 2017
The bolero is a genre of slow-tempo Latin music  and its associated dance.
As a child, this writer wasn't too fond of the "slow music" her mother would play while she was cleaning the house on Saturdays. Fast-forward to young adulthood, a rediscovery of Latin music, and having one's heart really broken for the first time, and suddenly, this music and its lyrics made lots of sense.
The year 2016 brought fans of the genre two wonderful albums, both with ties to Puerto Rico.
Ileana Cabra Joglar, better known as Ile, released her first solo album, iLevitable, this past June and is now nominated for a Latin Grammy. The New York Times described her first record as "a knowingly retro survey of Latin music's past, full of romance and a longing that can turn despondent." Indeed the lyrics are heartbreaking, but in an addicting way.
Around that same time, Miramar, the bolero side project from members of Richmond, Virginia –based salseros Bio Ritmo, released their LP: Dedication to Sylvia Rexach.
Since the band performed in New York City during APAP week in early January, we had the opportunity to catch a couple of their wonderfully heartfelt performances. We were blown away at their "retro" style, which they explained, isn't quite a rediscovered style that is making a "comeback." Boleros have always been around. We just weren't paying attention.
Keyboard/organ player/composer Marlysse Simmons Argandoña explained that she and Bio Ritmo lead vocalist Rei Alvarez have discussed starting a bolero project for years, since they were always fans of the genre, but only able to play a bolero or two during Bio Ritmo shows.
"You can't just shift from salsa to too many boleros, you know?" she said. "Rei has been collecting records for years; his aunt was a record collector in Puerto Rico. He also DJs and he was playing some boleros for me and there were a lot of these songs that I didn't know. My mom is from Chile so I knew some boleros, but I wanted to know more so we thought, we have to have a band for strictly playing boleros.
"We then met [the other vocalist] Laura Ann [Singh]. She was working on a Brazilian music project (Quatro Na Bossa), and one night we had a show where we were both on the bill, and I said, 'Why don't you guys sing a duet?' They did (it was the song "Otra Vez," which Quatro Na Bossa normally performed as a bossa nova, but in this case, Bio Ritmo performed it as a salsa with both vocalists) and it was just sort of a magical moment for me because their voices together without even a rehearsal were just amazing. And it clicked."
From there, Miramar started rehearsing and practicing songs by a 1960s band, Duo Irizarry de Córdova, which were heavy on the organ.
"We were basically copying their style in the beginning," Simmons said.
But it was on a trip to Puerto Rico that Simmons would discover the music of Sylvia Rexach.
"I was researching boleros, mostly the ones by Duo Irizarry, but it turns out they weren't composers, just vocalists. It was Sylvia Rexach who wrote most the songs they performed. She's just a legend on island," she said. "I met a biographer of Rexach's and she introduced me to Rexach's daughter, who is an actor. They took me to this cafe where men mostly in their 80s meet, and there I talked to many of them about Rexach, Duo Irizarry, and Puerto Rican boleros from the 1960s."
The band is now frequently playing gigs, performing songs from the dedication album. Rounding out the live performances are Brooklyn-based guitarist Brian Vargas, percussionist Hector Barez, and Rusty Farmer on bass.
Their sound is beautiful and leaves the audience silent and still, at best, softly swaying.
For Singh, it's important that those who hear Miramar's band do not equate them with a hipster gimmick.
"This music is taken directly from the 1950s," she said. "Marylsse has always been into organs. It's a tradition thing. The idea to sing these intricate harmonies really comes from tradition. But we're adding our stamp."
Obviously, as the band's dedication to Rexach came out around the same time as Ile's album was making waves, music writers were buzzing about the bolero making a "comeback." Simmons is quick to correct that notion.
"Boleros have never died," said Simmons. "There are hundreds of bolero albums out there, but in different markets, that's all."
Simmons said she had long been been hungering to play something slower that would force people to listen while they're not quite dancing as is commonplace during a Bio Ritmo set.
Singh agreed about boleros being more than just something light on the ear.
"This music is really evocative," she said. "Even people who didn't grow up with this can appreciate the nostalgia. The melancholy of being sad is a gratifying feeling. So much of bolero movement came about when these artists would come together and play stuff for each other all night long. It was all a presentation, playing their art for reach other… sharing and seeking the beauty and the feelings that go along with those things.
"I think in our current climate, people need that. Music where they can rest away from all the horrible things going on. Very much like those 'noches de bohemia' in Puerto Rico in the 1950s, we're not going to make you jump up and down. You're going to sit in this for a few minutes. It's not always easy. I don't think people are used to that," Singh said.
While six of the songs on the dedication album are penned by Rexach, the four other tracks are originals.
"That's what we do best – write songs," Simmons said.
Singh, who is not 100 percent fluent in Spanish, said she doesn't always understand the subtleties of what Alvarez is writing, but as lyrics are very important to Alvarez, he takes care to explain them to her, so she can apply the right sentimentality while performing. After all, this music is all about dripping sentimentality, vibrant love, or unrequited love, and loss.
Watch a fantastic set by Miramar, recorded at NPR's studios in Washington, D.C., here.

Follow Sounds and Colours: Facebook / Twitter / Instagram / Mixcloud / Soundcloud / Bandcamp

Subscribe to the Sounds and Colours Newsletter for regular updates, news and competitions bringing the best of Latin American culture direct to your Inbox.
Share: