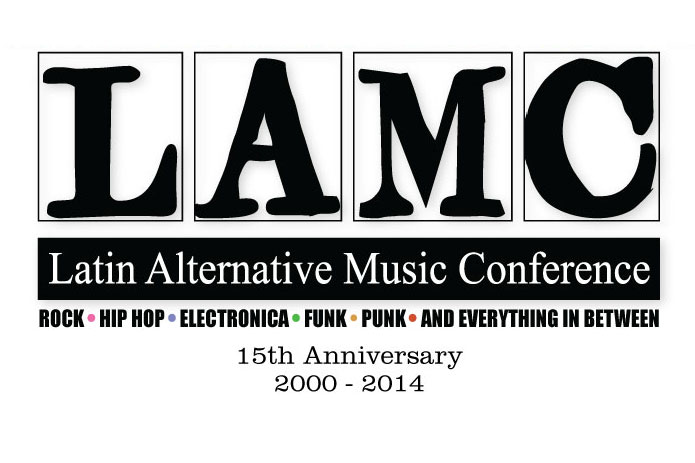 The Year of the Quinceañera: the Latin Alternative Music Conference's Sweet 15 And What To See, Do and Dance
07 July, 2014
Yes, it's that time of the year again, when fans of good Latino sound, artists, and avid summer concert goers co-mingle with us lowly music journalists in our ill-fated decision to forgo sleep and throw logic out the window to indulge in as many musical meanderings as humanly possible in a span of 5 days. It's Latin Alternative Music Conference (LAMC) season—"alternative" meaning that umbrella term for anything Latino not part of the "mainstream." You will feel left out of this mainstream if you miss the LAMC.
If you can't tell yet that the LAMC is in town, you will on July 13th, the day the conference ends, when your fellow Latino music fans emerge from their July 8th—12th stupor with ojeras (dark circles under our eyes). We'll look destroyed, so be kind to us. The thing that the LAMC always has going for it regardless of which acts, which venues, and what the weather brings, is its rock and roll spirit. Year after year, the LAMC manages to make you feel like you're 16 and going to Lollapalooza, and this year seems to be no exception.
Each year, the conference starts with a slow build, and each year new elements are added. In its inception (and still in its soul), the LAMC is a music festival. Its main joy is gathering a lot of great bands for a five-day extravaganza of music, acoustic showcases, the occasional panel, and parties. The conference part, although less glam, is what makes this gathering different, putting music tastemakers in panels, and allowing artists, journalists and fans to all co-mingle in one space. Tomas Cookman, the creator of the LAMC says that the conference aspect is what makes the LAMC more than a music festival: "We are fortunate enough to have a lot of smart and successful people speaking on the panels during the day and as a result of so much talking about this business, what better than to show off different sides of it in free shows across the city?"
And that's what makes the LAMC such a tour de force — an endurance test for those of us looking to cover both the panels and its cornucopia of social events. The LAMC is trying each time to add new elements to the mix. They do poetry, they do spoken word, they do film screenings… they want to do food. They want to do a lot, especially on their quinceañera: fifteen years of bringing together artists, fans and panelists. Sometimes the LAMC is great at hodgepodging things together. Sometimes, not so much. So what's a girl to do on such an important date? How to sort out the good, the bad and the hype? The answer: make a game plan.
First, consider the schedule. The schedule this time around, like any other year, is overwhelming. But not for the reasons you would think. The official LAMC lineup is in some ways a little lackluster—their heavyweight event is Juana Molina, La Santa Cecilia and Babasónicos on Saturday the 12th—although a terrific main, the other major acts are a little less exciting.
Here's a couple of things to know about the LAMC: each day, there's sort of a main act. Each day, there is also an act that's a must see. They're not always one and the same. There's a million after parties and secret shows that end up, in my opinion, being way more interesting and worth the time than many of the LAMC's official shows. So to make your ultimate schedule, let's split this up by days and truly take a look at what's worth your sleepless nights.
The Ultimate LAMC Schedule: A Very Biased List
Tuesday, July 8th: Officially, the LAMC kicks off with a film screening of Amor Crónico at El Museo del Barrio. The LAMC is trying to do film. They're still finding their sea legs. If you can check it out, cool. But this is not dire. Instead:
If you want some Latino hip-hop that will make you shake your butt, check out Los Rakas with The Illuzion, Tecla, Nena Rudas & Big Nito at Webster Hall. 8 PM. The Panamanian duo will bring it with a mix of dancehall and reggae. Las Nenas Rudas will DJ too. They are queer DJ goddesses from the Azucar dance parties. It'll be a dancing, booty stomping good time for 15 bucks. AKA for the price of one fancy New York cocktail. Worth it.
If you want to go to the unofficial LAMC kick-off party and you are in Brooklyn, check out Picó Picante at Bossa Nova Civic Club. 9 PM and it is free! It's a Boston-to-NYC bass party that has the Dutty Artz label lovelies Ushka and Chief Boima. In addition, Las Nenas Rudas will also be here. Way more bang for your buck for a BK girl like me. This is definitely my top choice for the day.
My verdict: Picó Picante. I love unofficial kick-offs.
Wednesday, July 9th: AKA the day the reckoning begins. Here is where the LAMC flexes its muscles. The first big show the conference offers is their Central Park Summerstage show featuring the powerhouse lady hip-hop artist extraordinaire, Ana Tijoux. Here's what's available to you on Wednesday:
Ana Tijoux, The Beatnuts, Bodega Bamz and DJ Tony Touch at 6 PM in Central Park (the Rumsey Playfield area, aka the part where you go in at 72nd and 5th). This is free, which is cool. This is Ana Tijoux, which is cool. This is like Spanish Harlem meets hip-hop via Chile. If you've never seen Ana Tijoux perform, do not miss this.
LAMC Indie Showcase at the Mercury Lounge at 8:30 PM. This. THIS. This is my top choice for the day. The indie showcase lineup is amazing. For a few hours, the Mercury Lounge will be a hub of Latino indie pop, and I couldn't be happier. See great artists like Caloncho, Los Crema Paraíso and Sante Les Amis. All amazingly fun, approachable artists who will make you love them even if you've never heard them before. The only catch? It's a semi private event with limited tickets. If you have an LAMC pass, go to this and brag to your friends about it.
Subsuelo vs Cumba Mela at Louie and Chan at 9 PM: There are two after parties that are never to be missed: Que Bajo and whatever the hell Subsuelo does. It's a global bass funk party up in here. And it will be worth the sweat dripping off the dance walls. It's a west coast vs east coast funk battle. And you'll be happy to get caught in the crossfire.
My verdict: Hit the indie showcase and Subsuelo. Best of soft and hard.
Thursday, July 10th: the day the panels get good. To be honest, the LAMC panels have hardly ever been fascinating. It ends up being very insider-y and a little obnoxious. But this year, there's a couple of panels that seem to break that curse. The first is the LAMC / Vive Latino / Latin Grammys – Nuestras Quinceañeras: A Coming of Age For Latin Alternative and the Overall Music Industry. This is a conversation hosted by NPR Alt-Latino's Jasmine Garsd and Felix Contreras where they'll talk about how Latin music is changing and evolving, and what makes this extra special is that they're chatting with Vive Latino founder Jordi Puig. Vive Latino is one of the (if not the) most important Latino music festival in the hemisphere. It's where truly interesting acts get a larger audience (ahem, can you say Astro?) and where many, many Latino bands get to share a stage with non-Latino greats that are influential (can you say Blur?). Also, this year the panel will have mystery guests: an undisclosed list of artists who have won a Latin Grammy and have played at both the LAMC and Vive Latino. Swoon. Good panel.
Now, as far as shows go:
LAMC Celebrate Brooklyn Showcase at the Prospect Park Bandshell: you will see Illya Kuryaki & The Valderramas, ChocQuibTown and RVSB. All fine and good, and all free, but really, nothing that I am losing my mind over. It's very basstastic Colombian beats, and the Argentine duo of Illya is worth seeing for sure if you are in the area. And really, they are great. It's just that this day is packed, and it's hard to compete with other acts. RVSB, the Chilean duo that makes your heart beat faster will also perform, so make this a full-on Brooklyn day and check it out.
Subterraneo 18: this is an unofficial LAMC showcase featuring Locos Por Juana at The Silent Barn in Bushwick. It's $8, but if you want some champeta, go for it! Totally worth it.
Supercrush Studio and NRMAL present: Sólo Dame Indie Pop! This is why Bushwick is a gem in Brooklyn. Festival NRML, aka the home of Matias Aguayo and Supercrush Studio are one this year to bring you a series of showcases at Radio Bushwick near the Jefferson stop—and this is the one I am the most excited about, mostly because of AJ Davila, an amazing pop artist from Puerto Rico. It's worth the trek on the L train to be in the coolest part of Bushwick to hear some of the best music. And it's worth the $8, totally.
iBomba vs. Subsuelo at Bembe at 10 PM: OK, so you may have missed the first Subsuelo music-off, and if so, this is your chance to catch them again. Everything to dance your butt off and more.
My verdict: Hit Supercrush Studio. If you missed the first Subsuelo, STOP and go to that too.
Friday, July 11th: This is the day that I will have the least sleep/this is the day I look the most forward to in all of the LAMC. If you do not have time to party all night any other night of the week, do not miss this one. This is the night of the amazing, must not be missed acoustic showcase at SOB's. These are always the best thing you can see/do for yourself while at the LAMC. It does not matter who performs: it's always a thing of magical beauty. Here's the lineup:
LAMC Acoustic Showcase at SOB's with Esteman, Ana Tijoux, AJ Davila, Diana Fuentes, El Mato a Un Policia Motorizado, Danay Suarez, Caloncho, Sante Les Amis and Babasonicos. 6 PM, and yes, you're more likely to get in with an LAMC pass. But if not, seriously, try to buy tickets. This will be worth it just to hear a guitar version of 1977.
LAMC Showcase at the Gramercy: Also limited availability. But also has AJ Davila and Los Macuanos. It's at 8 PM and boy, is it majorly competing with Ana Tijoux doing an after party at Europa in Greenpoint. Same time. I would go to the after party. I guess. I love Los Macuanos too. Which is also competing with:
Empress Of at Webster Hall. 10 PM. $15. She is awesome. I don't even know what to decide.
Also, Juana Molina and La Mecanica Popular are teaming up with Soundcheck and Latino USA to do an awesome live performance and conversation at 7 PM. So much to do today.
My verdict: Drink coffee. Hit every show. Time it so you only miss the first song of any, if any.
Saturday, July 12th: this is the day of the big closer: Juana Molina and La Santa Cecilia at Central Park. This will be an epic show, and if you're going to catch one of the big ones (aka one of the Central Park or Prospect Park shows), get this one. No doubt. In addition to this one, we have:
Barbès presents a Night of Latin Iconoclasts: where one Park Slope locale brings it with Sante Les Amis, Los Crema Paraiso, Mariachi Flor de Toloache and more. 8 PM at Drom in Manhattan. The kicker? It's expensive. But it's going to be good.
Que Bajo?! Que Bajo?! Que Bajo?! The best closing party ever. Whatever you do, go to Que Bajo?! 11 PM at Tammany Hall. Do it.
My verdict: Um, Juana Molina all the way. She is amazing. I loved her new record. Then Que Bajo?! Sorry, Barbès. You lost me at "up to $30."
The LAMC each year is a toss-up, so don't hate yourself if you don't have time to see it all. But remember that it's a conference—and so, soak it all in, go to any panel you have a chance to go to, and keep in mind that life is all about choices. As long as you go, you will be making the right choice.

Follow Sounds and Colours: Facebook / Twitter / Instagram / Mixcloud / Soundcloud / Bandcamp

Subscribe to the Sounds and Colours Newsletter for regular updates, news and competitions bringing the best of Latin American culture direct to your Inbox.
Share: